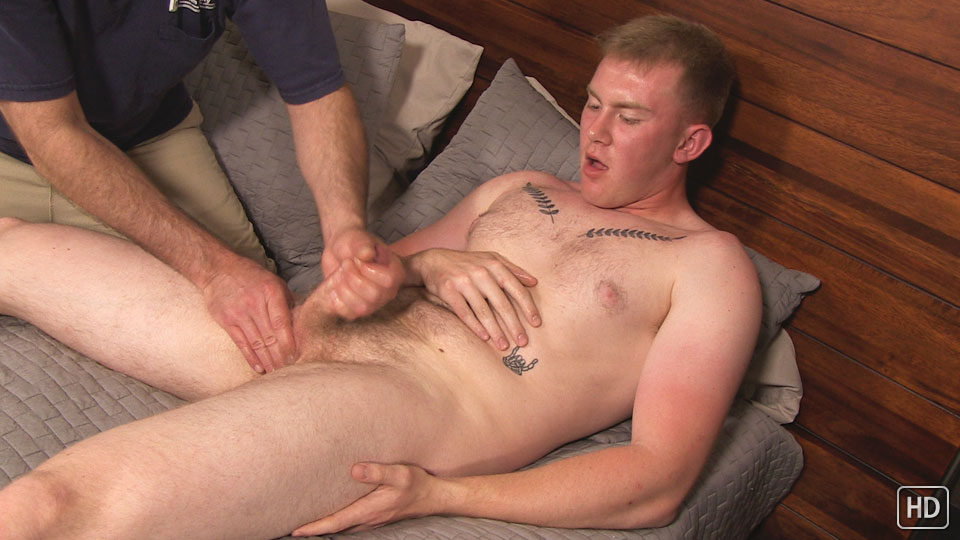 Watch the full scene:
Join Now!
Jared was hanging out at the Oceanside Pier when I was out on a "scouting trip." It's a popular place for Marines who want to get off base and soak up some sun. After striking up a conversation, I gave him the "How'd you like to do porn?" line. He looked a bit confused at first before finally answering.
"I mean, yeah. What guy wouldn't?"
It took a couple months for the stars to align (and in the mean time he was growing out his body hair), but when Jared showed up at the door there was a noticeable tension. Not that he was afraid of getting naked for the world to see. But jerking off in front of a guy was definitely going to be a new experience.
After the new-ness started wearing off, Jared found his groove and, between camera angle changes, admitted that he was actually getting turned on thinking about the people he might be turning on watching his video. Now that's what I call motivation!
He was certainly doing it for me. On a whim, I gave his balls a quick grab. Jared's cock seemed to get even harder so I reached out to give it a few strokes. Jared said it was pretty weird having a guy grab his cock, but it was looking like a green light to help finish him off.
Jared's eyes were glued to the porn playing in the background at first. But as the inevitable finish line got closer, his breathing got deeper. He glanced down to watch as the cum erupted, dripping down my hand and covering his pubes while his whole body convulsed.
Tags: Helping Hand, Hairy, Redhead/Ginger