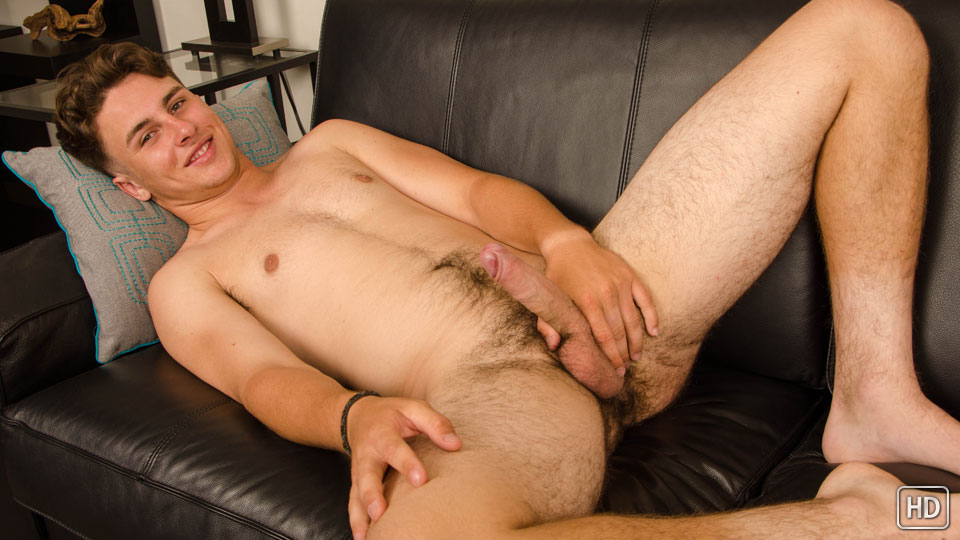 Watch the full scene:
Join Now!
I'd seen Laird riding his skateboard around the neighborhood for a while. It was inevitable that we'd eventually run into each other and I struck up a conversation that lead to the "How'd ya like to do porn" topic.
Laird's eyes lit up and said that he'd been thinking about it for a few years. Luckily, he'd recently turned 18 and was ready to go.
Once we met up at the studio, I was glad to see that Laird takes an au naturel approach to his body hair. And he sported an uncut cock, to boot. He was getting so turned on by shedding his clothes in front of the camera that he popped a boner almost as soon as he pulled his dick out of his jeans.
Laird had told one friend about doing porn: a gay guy he referred to as his brother. He wasn't sure if his buddy would want to see the video, but it seemed clear that his current girlfriend was definitely not going to hear about him shedding his clothes on camera.
Laird has a more-than-healthy jerk off regimen, usually stroking out 5-6 loads a day. When I told him to hold off, he took it seriously and saved up for 3 days. That lead to a whopper of a cumshot. Laird shot streams of cum that covered his stomach and chest.
Tags: Big Cumshot, Uncut