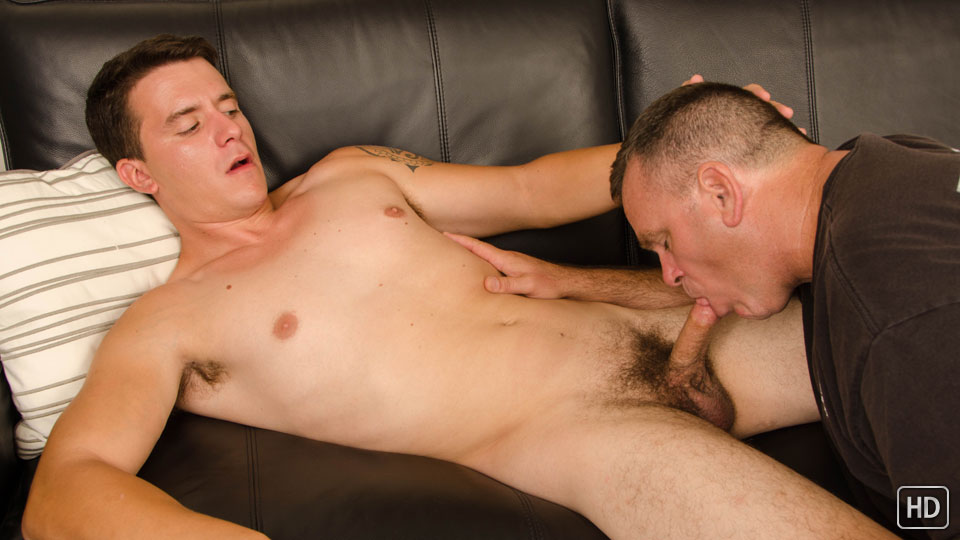 Watch the full scene:
Join Now!
It took a few weeks, but Thad's back to get sucked off by a guy for the first time. Although he didn't come right out and say it, I had a feeling that since his roommates all knew he'd been getting into porn that they might start asking for more of the details about what he was doing on camera. Getting a happy-ending handjob was one thing, but a blowjob, Thad had said with a laugh, "That's more of commitment."
Thad is the type of guy who plays it cool even when he's nervous; you may have noticed that, too, in his pervious shoots. Once the cameras were rolling and his shorts were being unzipped, his eyes darted around the room with uncertainty.
But if his head wasn't quite in the game yet, his dick certainly was. After a few rubs I could already see the outline of his hard-on through his boxer shorts. Peeling them back, out popped a raging boner.
After a minute, Thad's expression changed noticeably as he gave in to what was turning out to be better than he expected. He has a pretty thick shaft that I'd be willing to bet most girls he'd been weren't able to take.
At first, Thad carefully pushed my head down to the base of his cock as if he was unsure of how rough he could be. From that point on, he seemed to understand that he could just go for it and started throat fucking me, holding my head down while his head rolled back in ecstasy.
Thad lay down on the couch for his grand finale. He'd saved up for 3 days so he was ready shoot after just a minute. He closed his eyes while I wrapped a hand around his balls and pushed him up to the edge. Thad quietly whispered, "Okay, I'm about to," as a creamy load covered his pubes and ran down his leg.
Tags: Oral