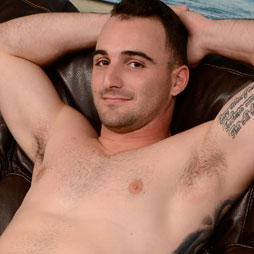 Age: 22
Height: 5' 8"
Weight: 180
Shoe: 9 1/2
Cock: 6 1/2" x 5 1/2"
Orientation: Straight
If you only knew the number of applications that get sent in from guys who want to do porn. More important, if you knew the verrrry small percentage that even come close to being considered, you'd understand even more why I was so excited when I saw Tom's application.
When I spoke with Tom on the phone, though, one of the first questions he asked was, "So, am I gonna pushed into doing gay porn?" "Pushed" is such an ugly word, I told him, half-joking.
Tom is a fun guy and has some real potential in the SW stables, in my opinion. But I really don't know if we'll be seeing him beyond a solo video or not. I'm hoping, though! Send in your "votes" of support and maybe we can all collectively "push" him into taking the next step. (wink)
Videos
Photos
Bonus Scenes