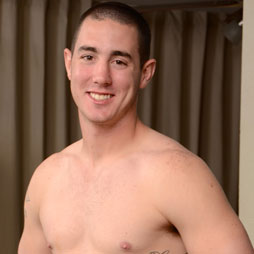 Age: 22
Height: 5' 9"
Weight: 175
Shoe: 10
Cock: 6 1/2 x 5"
Orientation: Bi-curious
Guys like Damien make this the best job a person could ever ask for. I'll admit it: I've been bitten by the Damien-lust-bug a little bit. He's one sexy fucker who isn't gonna let anyone get in his way when he sets out to do something.
First on his list: Do porn. Check!
Talking with Damien after his solo porn debut, I have a feeling he'll be checking a few other things off his "to-do" list over here.
And you know what the best part is? We all get to watch it happen.
I, for one, am pretty excited. I hope you are, too.
Videos
Photos
Bonus Scenes