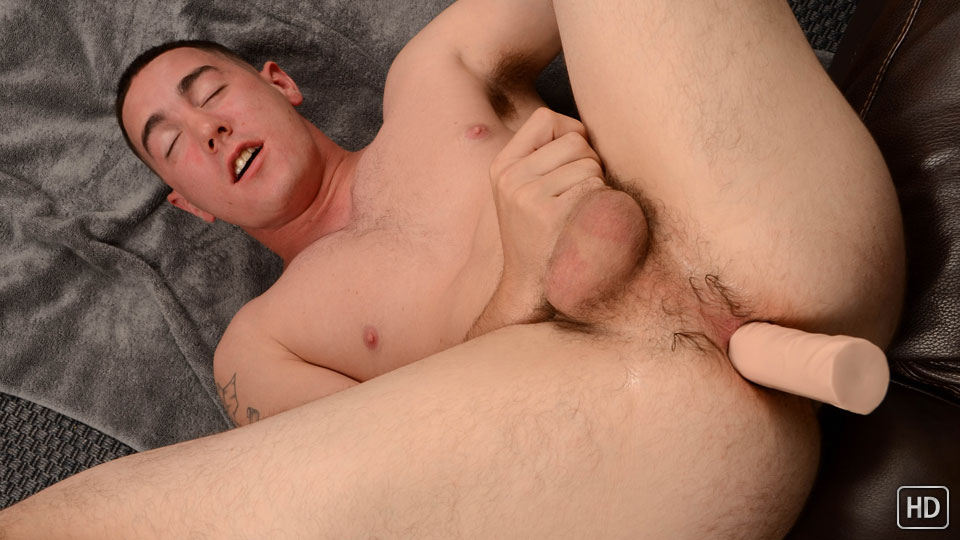 Watch the full scene:
Join Now!
Damien's back and taking things up a notch once again. Last time he came over, he got his first hummer from a guy and ended up getting rimmed and fingered. This time around I hit him up about trying out a dildo. Or two.
"That thing is massive!" he said about one of them with widened eyes. I assured him that he could start with the smaller one and see how things went.
Slowly, but surely, Damien primed his hole, working the first toy into his ass. It took a sec, but he figured out that it was also a vibrator, he flipped the switch on to give that a shot, too.
Once Damien was on all fours, he decided it was time to go for the gusto and push the 8-incher up his ass. And I have to admit, he took it like a champ. Something in the back of my head was saying that this str8 boy needed to get fucked.
Damien's cumshots are like ol' faithful-- every time so far, though, he's just barely missed his face. Well, not this time. He curled over and with a little help from yours truly, blasted himself right in the mouth with his load. He licked up some of it from his lips, but, just to make sure none got wasted, I scooped some up that he ate off my fingers.
Tags: Anal toys, Big Cumshot