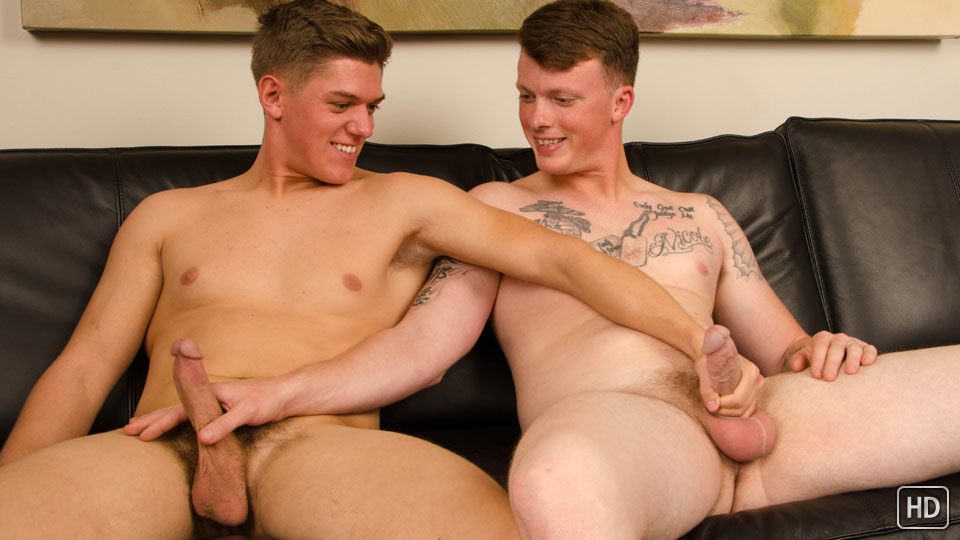 Watch the full scene:
Join Now!
Those of you who enjoy the "progression" series, seeing a str8 guy go from a solo to the more interactive scenes might go a little bonkers with this one. But I like to bring something special every year for the Christmas update, so I'm breaking the rules a bit. This is actually a scene that would normally come out later since it's Anthony's 3rd shoot, and Bryson's 2nd one. You'll be seeing both their other videos soon, though, so bear with the flash-forward this week.
Anthony and Bryson are life-long buddies, growing up together and knowing each other for as long as they can remember. As things turned out, they both ended up joining the military and got stationed together, too.
Anthony did a shoot not too long ago and then ended up telling Bryson about it. One thing led to another and they decided to do a shoot together. It didn't seem to phase them a whole lot. Anthony is always dropping his pants at their house parties, and they even held hands once while fucking a couple girls. This just seemed like another day at the office. At first, anyway.
Jerking off side-by-side is a new step and I figured while we were at it, let's see if the guys would take things up a notch and jerk each other off. Without missing a beat, Anthony grabbed the lube and reached over to start stroking off Bryson, who figured, "Why not?" and jumped right in to give Anthony a helping hand.
"I think I beat him on length," Anthony chimed in, "but he's got me on girth."
Both the guys admitted that having another guy jerk them off was way better than any handjob a girl had ever given them (duh!). In fact, Bryson got pretty close to cumming after just a few minutes.
Final outcome? Well, let's just say there was plenty of brotherly love spread around this Christmas. Bryson covered Anthony's chest with his load, and Anthony returned the favor by squirting Bryson with not just one, but TWO back-to-back, high-powered cumshots.
Tags: Duo j/o, Big Cumshot, Redhead/Ginger