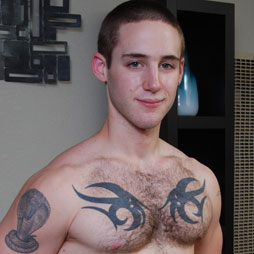 Age: 20
Height: 5' 5"
Weight: 150
Shoe: 8 1/2
Cock: 6 1/2" x 5"
Orientation: Straight
"Enthusiastic" is the word that comes to mind when I think about describing Noah. He was so excited about his upcoming porn shoot that he sent text messages almost every day leading up to it. He hadn't even shown up yet, but already was leaving a good impression.
I have to admit, beside his winning personality, Noah bowled me over in a big way. He's quite the power ball package with his hairy body and perky pecs. Did I mention his ass already? Definitely not to be missed.
Noah seems fairly open-minded about going the distance in his porn explorations. And I, for one, cannot wait to see more of him and how far things might end up going!
Videos
Photos
Bonus Scenes