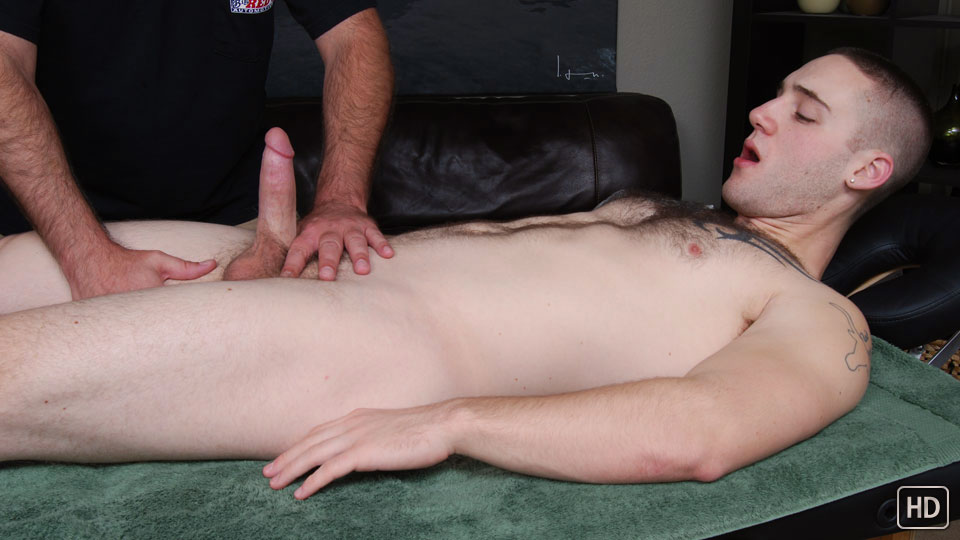 Watch the full scene:
Join Now!
Pocket-sized hottie, Noah, is back! He enjoyed his "surprise handjob" so much that he thought he'd be up for a little more attention. And I, for one, couldn't wait to give his tight, furry bod a rub down.
Noah had only gotten a massage once before from a friend who wanted some practice for massage school. "It was just a regular one, though" he said with a shrug.
He lay on the table and I oiled him up, working on his back, legs, feet. By the time I started rubbing his hot bubble butt, Noah's cock was already swollen and poking between his legs. As I spread his cheeks and gave his tight hole some special attention, he let out a quiet moan.
Noah flipped over and was throbbing hard. I teased him a bit, just grazing his shaft with my hands and softly rubbing his balls. This only got him harder.
Once I started stroking him, big beads of pre-cum started flowing out. Noah said he could feel that he was leaking and that he was getting close. I leaned down to give it a taste, licking some off the head of his cock. This sent a shudder through Noah's body and left him gape-mouthed at how good it felt.
I could tell that having his cock sucked was going to push him over the edge, so I teased him by licking his balls and slowly working the head in my mouth. Noah opened his eyes and said he was getting close. With a few more strokes, Noah panted as a warm load shot onto his stomach and ran down my fingers.