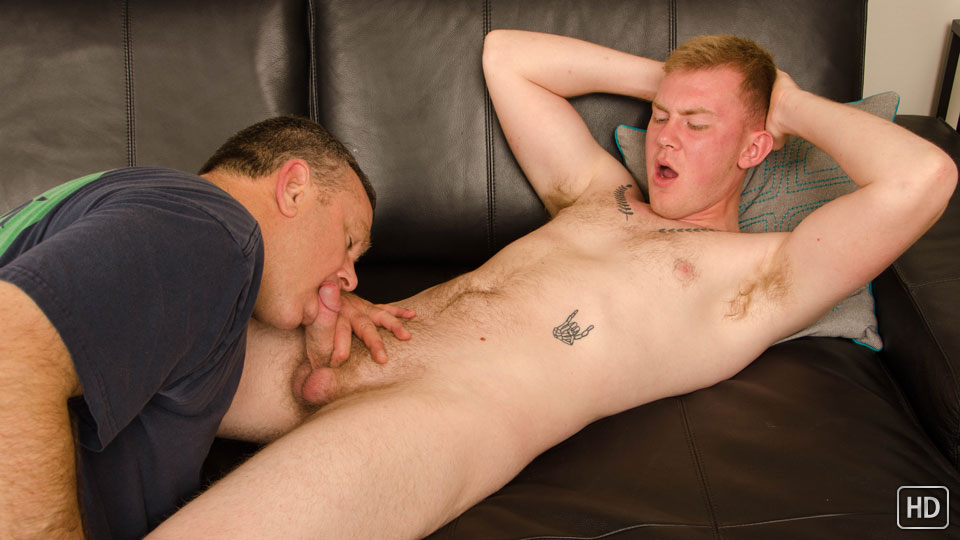 Watch the full scene:
Join Now!
A few weeks ago, Jared got in touch about doing another shoot, but he was hesitant, to say the least, about getting a blowjob from a guy. After mulling it over, I finally got the text from him: "When can we do this?"
Jared was edgy before his gym shorts were pulled off. The second my mouth was around his cock, though, the look of disbelief on his face was priceless. He'd said before the cameras were on that he'd never gotten off from a BJ before. I assured him that this one would be a teensy bit better than the chicks who'd blown him. And already it was proving to be true.
When Jared stood up, he seemed to suddenly realize that he could go full-bore and went to town fucking my mouth.
"Man, you can take that deep," he said with a hint of surprise in his voice.
Jared definitely had some reservations about getting rimmed, but in the heat of the moment decided to give it a shot. As the old saying goes, "Hard dicks don't lie." Between the moaning and rock hard cock, it seemed that he was a sold customer!
After all the teasing and edging he'd gotten leading up to the big finish, Jared was a ticking time-bomb waiting to go off.
We took a quick break and then went for the gold, so you'll get to see the whole build-up in the video, from semi-soft to blast-off. And it was a bit of a sneaker cumshot. When he got there, I barely had time to pull off before Jared was shooting his thick load onto his stomach and ginger pubes while he moaned in ecstasy.
Tags: Oral, Hairy, Redhead/Ginger