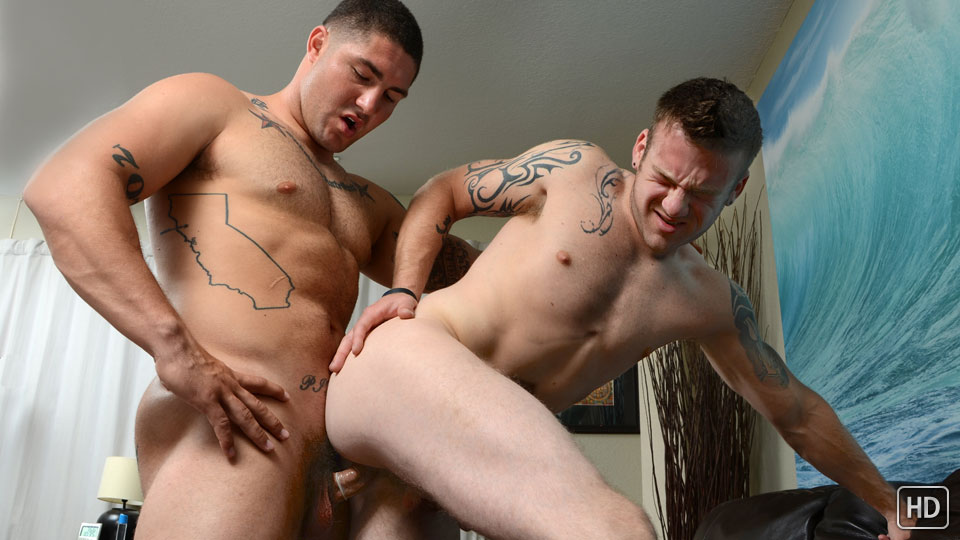 Watch the full scene:
Join Now!
I called on the big guns for this update. And by big guns, I mean Nicholas, of course. Anyone who has seen this straight stud before knows he is 220 pounds of muscle with a cock to match. I paired him with Scottie, a bi-curious hottie with a perfect ass. I didn't want Nicholas to be disappointed by his first experience fucking a dude!
These two had met earlier, so Scottie didn't waste any time getting Nicholas ready for the main event. As soon as Nicholas' clothes came off, he went about sucking his dick like an expert. "That's great," Nicholas said time and time again, so he must have meant it. "You should teach classes," he added before standing up so Scottie could get on his knees and really get to work on that stiff pole.
Scottie seemed a little nervous to take Nicholas inside him ("It's gonna be interesting," he said), but once he sat down on Nicholas' rock hard shaft, he seemed to relax and start enjoying it. "You want me to spank you?" Nicholas asked, but he didn't get a response. Scottie was too busy taking deep breaths as he tried to take the cock all the way into his tight hole.
Once these two got into a groove, they both got really verbal with each other. "You like that?" Scottie asked, just moments after Nicholas called his butt a "juicy little ass." I think he already had his answer.
When Scottie got up and bent over, Nicholas took the opportunity to really fuck him hard. Nicholas had no mercy, fucking his tight hole. There's nothing hotter than watching Nicholas' beefy ass flex as he thrusts in and out of Scottie's hole.
For their final act, Nicholas put Scottie on his back, legs up in the air, and drove his cock in balls deep. Scottie put one leg up on Nicholas' shoulder as Nicholas reached down and started stroking Scottie's dick as he he pounded him into submission.
"I'm gonna cum," Scottie announced before shooting all over his stomach. Seeing Scottie bust, Nicholas pulled out and stroked himself fast. "Oh yeah, I'm gonna cum, too," he said as he shot what can only be described as a geyser of cum all over Scottie's stomach and chest.