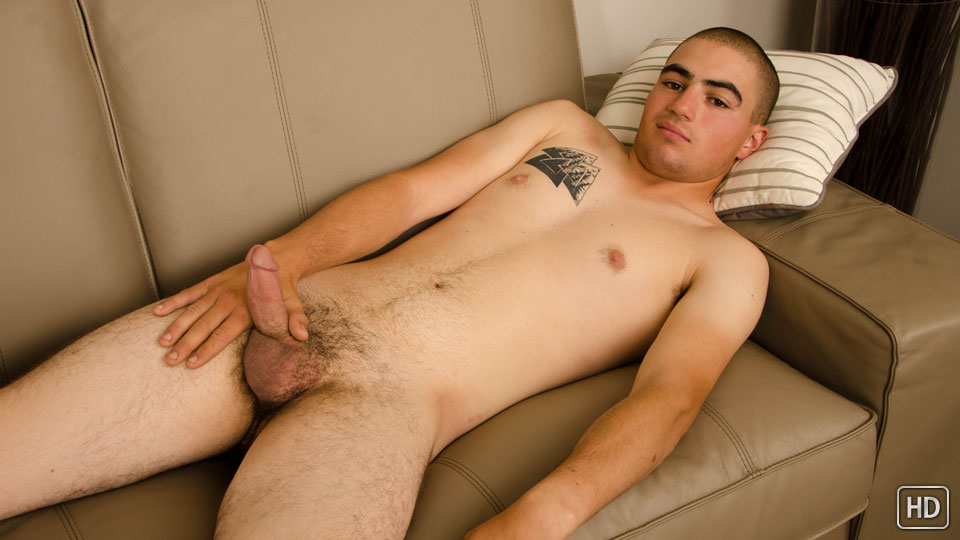 Watch the full scene:
Join Now!
A lot of guys I meet believe they will be god's gift to the porn industry. That's usually based on either comments they've gotten from previous sexual partners or thinking that since they've watched a lot of porn themselves it will make them an expert performer.
Being on the set, though, is another story. It's quite a different experience from jerking off in your bathroom to doing it with 1500 watts of lights beaming down on you and a guy you just met shoving a camera between your legs.
Usually things work out and even the most nervous guy will be able to finish their first time on camera with a cumshot. But not always. This is one of the times that it didn't.
Neil is a 19 y/o military guy who had told a bunch of his buddies about coming over to make his porn debut. They all gave him the thumbs-up and told him to go for it.
He showed up gung-ho and ready to get naked. He even started popping a boner as soon as he unzipped his jeans during the photo shoot. Things were looking good early on and he seemed to enjoy showing off for the camera.
Things were going great for him during the video shoot, too, until (I think) the pressure of the cum shot started him down that performance anxiety spiral. Even after a couple breaks and re-starting, he just wasn't able to get there.
At the end, we took another break to let him clear his head. And out of nowhere he remembered that his girlfriend was expecting him and he hastily made his way out the door, promising he'd come back another time. Alas... never to be seen or heard from again.
Tags: Auditions