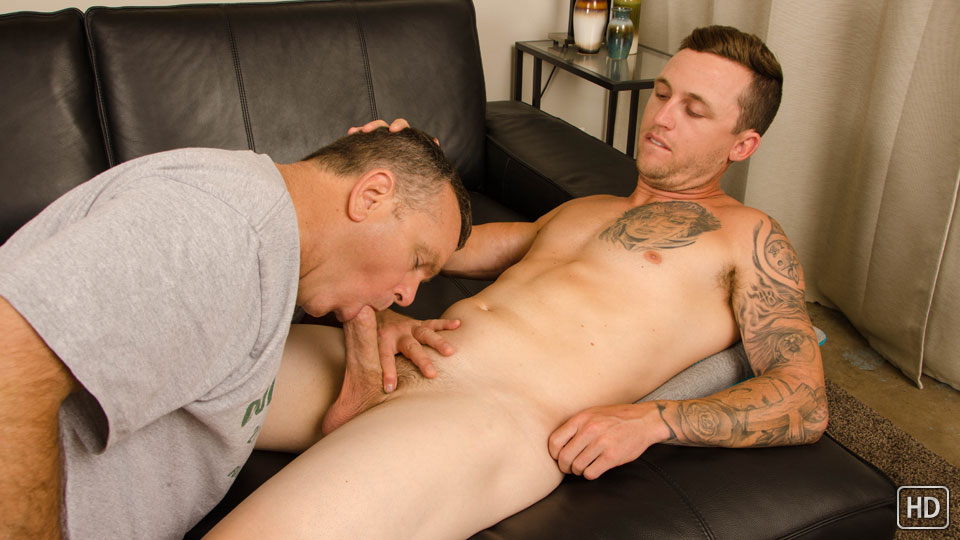 Watch the full scene:
Join Now!
Blake, I'm finding, has a nearly insatiable sexual appetite. That, and he seems to have discovered his inner-exhibitionist, getting a thrill from showing off for the camera. I got a text late one night from him, asking if he could come back for another shoot. The next day, he showed up already sportin' a boner through his compression shorts.
Funny thing was he didn't even ask what kind of shoot we were doing. And when I told him he'd be getting a BJ, he shrugged his shoulders and simply replied, "Let's do it."
Blake took a minute to get used to the idea of a guy sucking his cock; at least that was the reaction I got. And then it clicked. His eyes rolled back and he wrapped a hand around the back of my head as if he suddenly realized that this was going to be good.
After pounding my throat, he was a little taken aback when I had him get on all fours to dive my tongue between his muscular ass cheeks. It might have been his first time getting rimmed; I didn't ask. But he seemed to enjoy it either way!
Blake must have been right at the edge the whole time. When he rolled over onto his back and got the go-ahead to finish, it's like his dick was on a hair trigger. One reach up to give his nipples a tweak while sucking the head of his cock did the trick. Blake exploded streams of cum, covering his tight abs with a glistening mess.
Tags: Oral, Big Cumshot