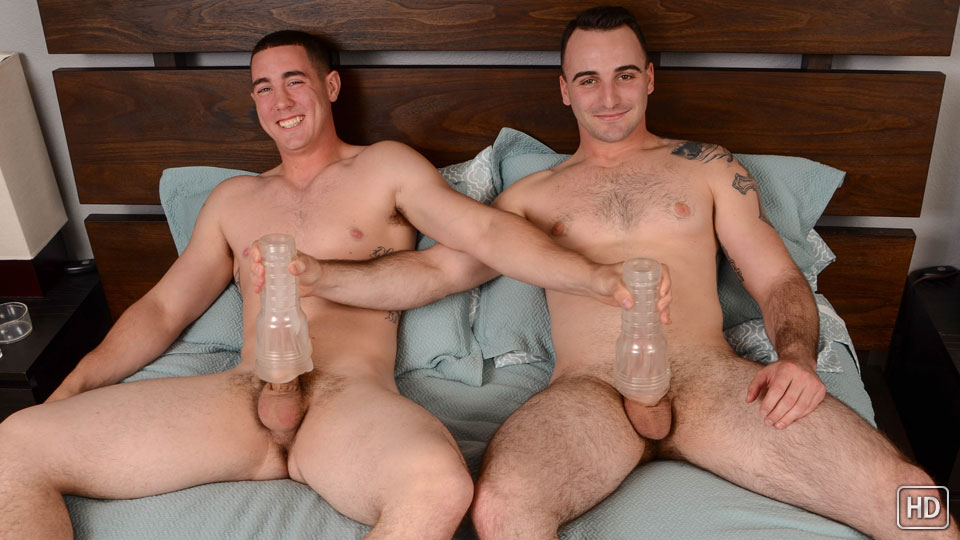 Watch the full scene:
Join Now!
Here's a first for the site. Tom and Damien each independently came in for a shoot. What I, or any of us, didn't put together was that the two of them not only knew each other, but work together, AND are best friends. True story!
It certainly lead up to a fun video idea-- Damien and Tom were all for it. At least on paper. When they showed up together and the cameras started rolling, the tension was a little more than they imagined.
Before long the guys were naked and jerking, with a bit of the requisite shit talking to make them feel at ease. Of course, there were some peeks snuck in to size each other up.
"Awkward" was putting it mildly. Damien had bills to pay and Tom nodded in agreement, and as we all know... money talks. I left in every second of the negotiation, and eventually they agreed to jerk each other off with Fleshlights.
Curiosity or cash, I'm not sure what kept them going. Both of them were rock hard when they started stroking each other.
Tom was ready to bust first, and shot a huge load onto his stomach. Within seconds, Damien blasted cum that squirted all the way up to hi neck! Both sides!
Tags: Duo j/o, Fleshlight, Big Cumshot, Hairy, Muscular