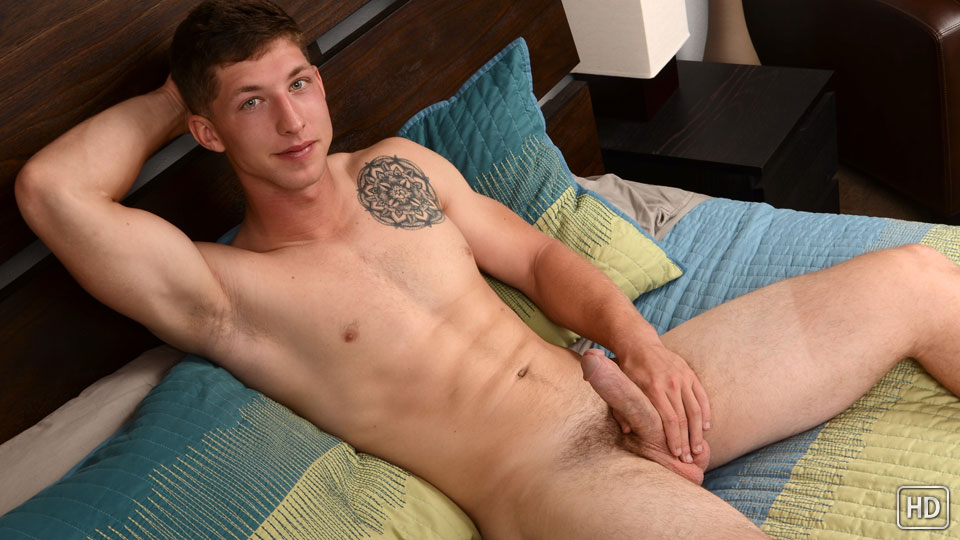 Watch the full scene:
Join Now!
How could a guy like Davis not catch your eye? He certainly caught mine when I was out at one of the local malls. Feeling bold that day, I walked up and gave him the "How'd ya like to do porn?" line.
The obvious part is that he said yes. But, it turned out, Davis isn't new to the cameras. He'd done a solo shoot once before.
"I like doing it. It's fun; it's different," he said nonchalantly.
It was 8 in the morning on a Saturday-- Davis' idea when we went to set up his shoot. So I knew he was a little more gung-ho than just "it's fun," so I pressed him a little and he admitted with a laugh that he likes showing off.
With a body like his, who wouldn't? Davis is kind of a sports nut which helps keep him in shape. But, even when we first met, I got the feeling that he enjoys the attention he gets from his physique. Feel free to stare. (wink)
If there were any doubts about his exhibitionist side, the way Davis' cock sprang to full mast as soon as his shorts came off quickly dispelled them. He's got a nice, thick one, too.
Once he got the thumbs up for his cumshot, Davis was ready to blow his load that ran down the shaft of his dick, landing on his pubes.
Tags: Muscular