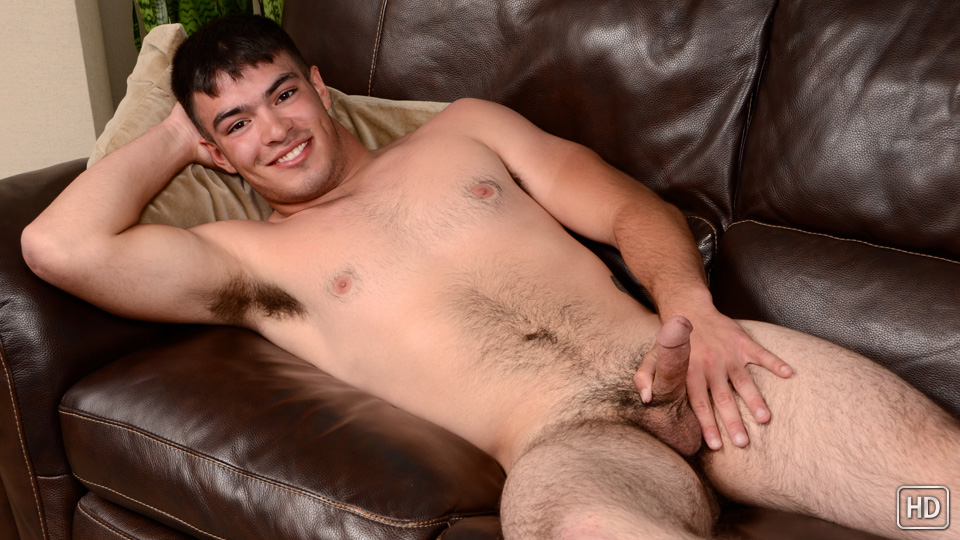 Watch the full scene:
Join Now!
Hold on to your cowboy hats. 19 y/o Nevin was recently introduced to me through a buddy who hangs out with a lot of military guys. When our mutual friend asked Nevin about doing porn, the response was, thankfully, "Hell, yea!"
Nevin is pure country. He showed up for his shoot in cowboy boots and camouflage sunglasses. "For huntin'," he explained with a smile, making his adorable dimples show. I thought I'd just about died and gone to heaven. And that was before he took off his clothes!
Nevin's a pretty hairy guy for his age. He hates it (and normally shaves it all off), but I was glad to hear that he would grow it in for the rest of us who like it a little more natural.
I think being on camera was a lot more fun than he anticipated. When I told him about what's going to happen in the shoot, he grew visibly nervous.
"I'm not sure I'll be able to keep it up," he grimaced.
Well, that was definitely not a problem. Nevin's cock was ROCK hard from start to finish; a budding exhibitionist.
Nevin normally stands when he jerks off back in the barracks. So, after picking out some fairly specific, and fairly rough, porn, Nevin pounded his cock and fucked his fist until cum splattered all over the side of the couch.
Tags: Hairy