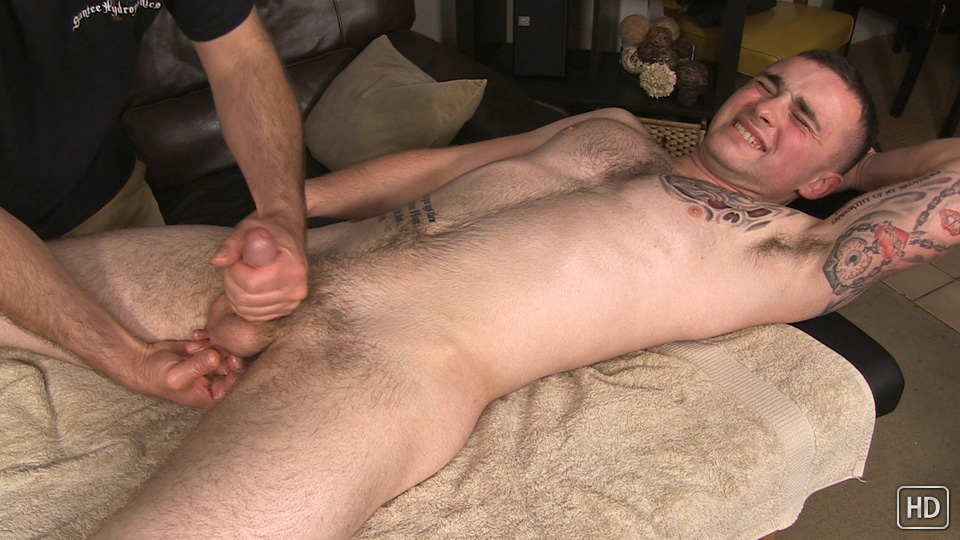 Watch the full scene:
Join Now!
I wasn't sure if Baird would be coming back. Gettin' this shy and conservative Marine naked was a feat in itself. When I asked him about doing a massage scene... well, let's just say it took some time and a big wad of cash to finally convince him.
It's almost needless to say that Baird was nervous about getting rubbed down by a guy. But, as it's been said, hard dicks don't lie.
As I migrated from his back down toward his furry ass, Baird's dick started poking out from between his legs. That seemed to be the go-ahead to spread his cheeks and play with his hole. And with a finger up his ass, Baird's cock really started coming to life. Knowing now where the magic button was, I had Baird flip over to give his front side some attention.
With a few grazes of my hands, Baird's cock sprang to full attention. It'd been a while since I'd tasted 19 y/o Marine pre-cum so, ya know… I just had to since it was sitting right there in front of me. (wink) But my mouth around his dick was sealing the deal.
That was just about it for Baird: with a finger deep up his hole, he was going to explode. And after a little more ass play (for good measure) Baird blew a thick load that was dripping down his thigh.