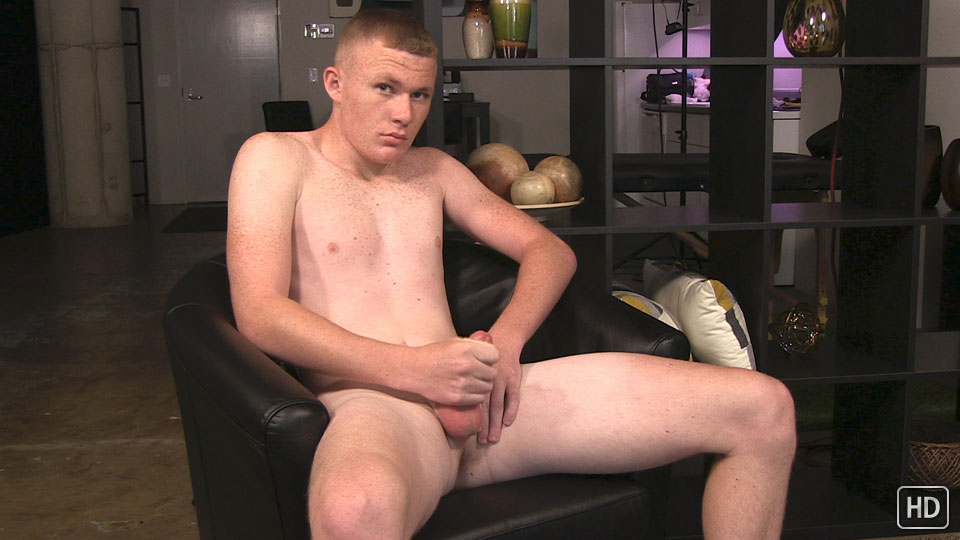 Watch the full scene:
Join Now!
Sometimes I get applications from guys who look like they have some potential, but you have to wonder what they were thinking when they take the pics to send in. Blurry, heads cropped off, funky angles, even ones that are 6-7 years old. Rather than trying to assemble a jigsaw puzzle of different body parts, I'll ask the guy to come to the studio to get some decent pics taken.
Brent was one of those guys. He's a tall, lean dude -- like 6' 4". He recently turned 18 y/o and was pretty fired up about trying his hand at porn. He even told his dad he was heading over to interview.
Once his clothes came off for some test pics, he was probably more excited about getting naked on camera than he even realized. Within a few seconds he was already sporting a boner. He chuckled nervously at first, then warmed up to making a good first impression.
"My girlfriend always says I should do porn because I shoot cum like a shotgun. You want to see?"
It's hard to say no to an offer like that. So, I set the cameras up and let him go at it in a "qwicky style" audition.
Brent may not have the biggest dick in the world, but he (or his girlfriend) wasn't kidding around about an explosive finish. I've re-played the video a few times and it's hard to keep track of the streams of cum that flew everywhere!
Tags: Big Cumshot, Redhead/Ginger, Auditions, Qwicky