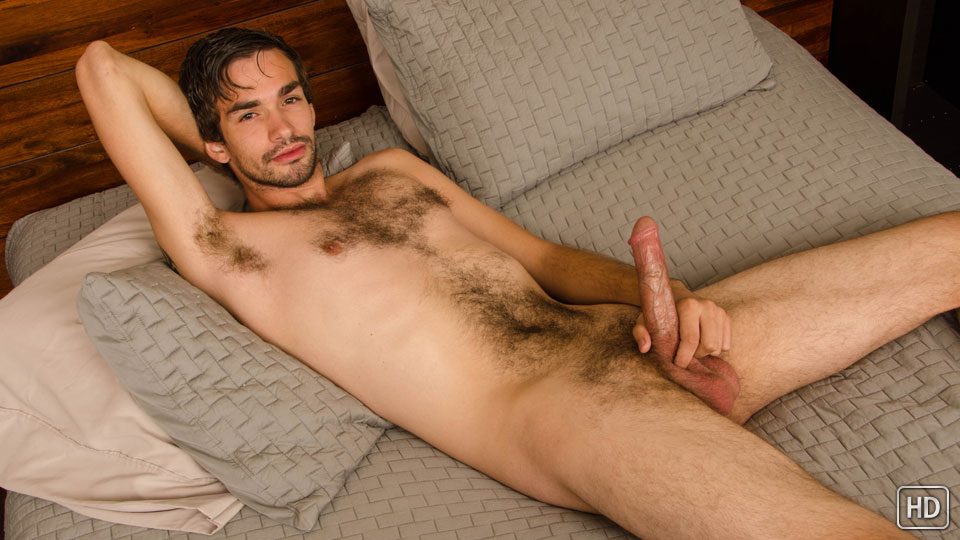 Watch the full scene:
Join Now!
Francis is one of Ty's buddies who he (Ty) had told about his porn expedition. Ty had heard that that Francis had a big cock -- like 11 or 12 inches. And Francis had been dying to show it off (which he already had been, apparently, given the rumors of its size).
Francis is 24 y/o, a tall, lean, and hairy dude. And, yes, he'd been thinking about getting into porn since he was 18. When he said that he'd also told some of his friends about coming in for a shoot I asked if any of them were surprised to hear it.
He laughed, "Not at all."
Francis' sexual boundaries seemed to be somewhat "fluid." At the encouragement of their girlfriends, he and his best friend had a make-out session that turned into jerking each other off while the girls watched. Since then, he's had some fun with other guys, too.
Once his clothes were off, I could see right away that Francis was toting a hefty piece of meat between his legs, even when it was soft. And it definitely was a grower. Maybe not the 11 inches he'd thought, but a thick 8 1/2" when we got the "official" measurement.
Unlike a lot of the guys, Francis actually got more turned on once he'd flipped over to show off his butt. Before I knew it, he'd shoved a finger up his hole which brought himself up to a new level of horniness. He turned back over and jerked himself up to a messy finish, leaving his fuzzy belly sprayed with jizz.