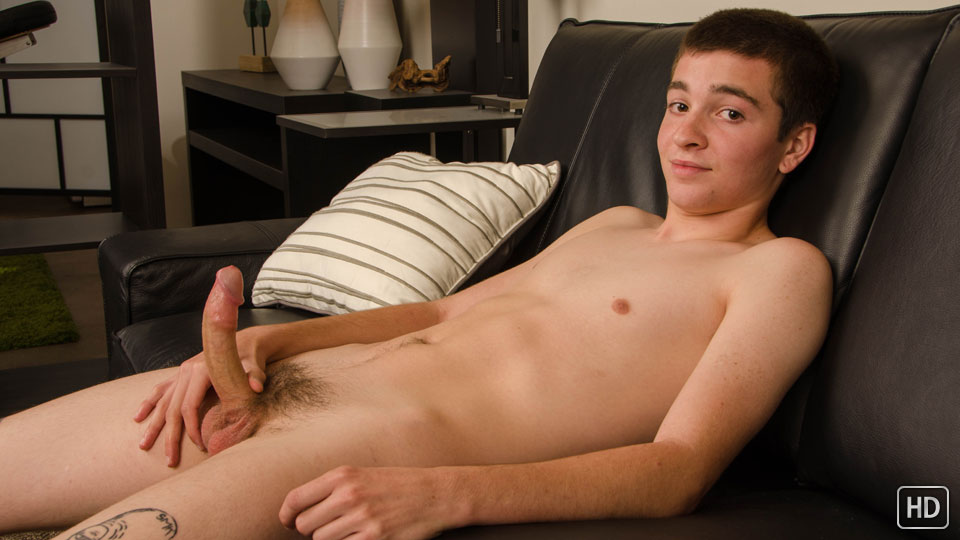 Watch the full scene:
Join Now!
Remember Jayson? About a year ago, while we were waiting for his pubes to grow in, he'd told a couple buddies about getting into porn who were interested in giving it a shot, too. Allen is one of them.
Let me just get this out of the way: yes, I did check Allen's I.D. and, yes, he was over 18 y/o (he was 18 and 1/2 at the time, to be precise).
Allen was actually even more excited about doing porn than Jayson was; a long-time aspiration of his. He'd told a few of his own friends about getting a shot in front of the cameras which prompted me to ask what they had said.
"They were a little weird about it," he replied. "But I told them it was my dream job, so I don't care what you guys think."
Allen admitted that he was pretty nervous at first, but you'd never guess it. He barely touched his dick before it was rock solid. And he's got a pretty big one for a smaller guy, standing at just 5' 5".
It wasn't much of a surprise to hear how "active" Allen's jerk off regimen was, normally rubbing one out 1-2 times a day, getting up to 8 times. What did catch my attention was that he and Jayson had jerked off together once (especially since Jayson never mentioned it).
Allen had a 2-day load stored up for the shoot. It wasn't as big of cumshot as he seemed to expect, but it was thick and creamy.
Tags: Auditions