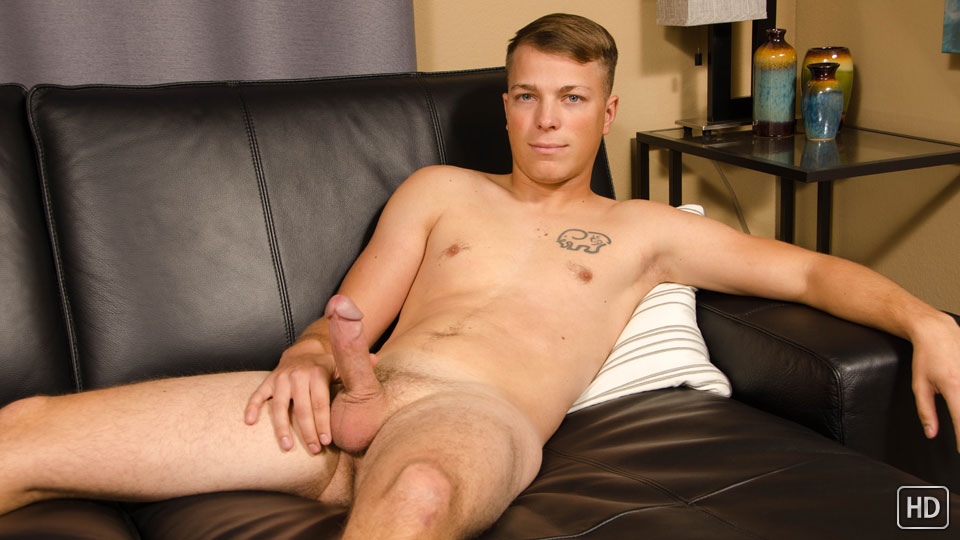 Watch the full scene:
Join Now!
Karl had toyed around with the idea of doing porn for a while. It was a couple of his military buddies, both of whom had done shoots before, who re-kindled the idea and got him to finally make the leap.
Karl is 23 y/o and described himself as a thrill-seeker and somewhat of an exhibitionist. Although he hadn't done much in the way of showing off in public, he'd gotten walked in while jerking off so many times that I gave him points for at least trying! He listed them all off:
"I've been caught by parents, siblings, friends, higher-ups at work came into the barracks rooms."
Lately, Karl had also been testing the waters with some bi curiosity. He hadn't gone very far with that yet, but admitted that one of the things he likes is watching guys get fucked. That seemed to have some influence on his own porn debut.
He hadn't gotten fucked himself, but ass play was what really got him going during the shoot. As soon as he reached down and started fingering his hole, the inner-exhibitionist found its way out. Karl was a "verbal" guy; the commentary he provided was pretty hot.
Since he first got in touch, Karl had been saving up for his first time showing his cock to the world. I was glad he did, 'cos his dick was hard, thick, and ready to explode. Karl fingered himself as he got himself close to the finish line, and rolled his head back in ecstasy while the cum pooled onto his stomach.