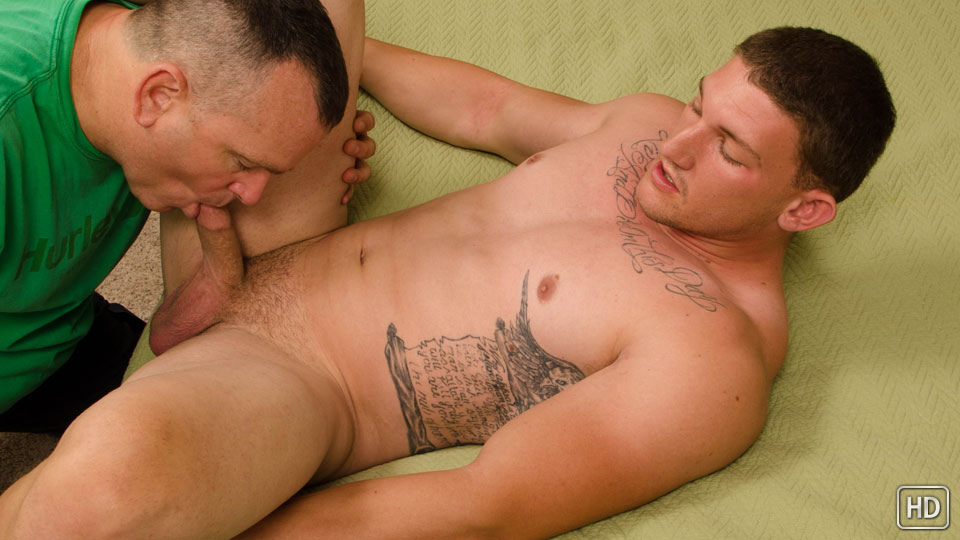 Watch the full scene:
Join Now!
Avery was a sold customer after getting serviced by Jake Cruise, apparently. When he asked about coming back for another shoot, I knew it was my turn to get this beefy str8 Marine off. Trust me... no complaints on my part. (wink)
And Avery didn't seem to have any complaints, either. No sooner was his zipper pulled down than he was already sporting wood. Anticipation of another great blowjob or hint of some curiosity? I'll let you decide.
One thing I've gotten a lot of requests for is that the married guys leave their wedding bands on during the shoot. Duly noted. Avery's marital status was pretty clear. Especially when he wrapped his hand around the back of his head while I wrapped my mouth around his thick cock.
Eating Avery's ass was a little slice of heaven, but what seemed to be his was when he stood up, grabbed my head with both hands and rammed his cock down my throat. He loved taking control.
It didn't take much to push him over the edge. In fact, he seemed ready to bust from the very start. Avery's eyes rolled back into his head, right before letting me know he was about to cum. It ran down my hand and pooled onto his pubes; just enough of a treat to lick up the dabs on his cock.