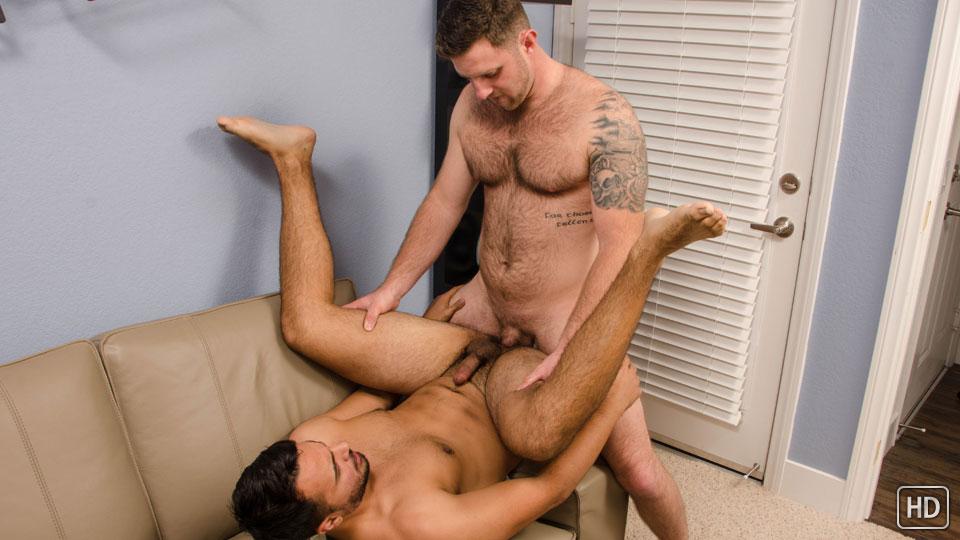 Watch the full scene:
Join Now!
It took a minute (and a big stack of greenbacks) to convince Blaze to come back and fuck a guy for the first time. When word came that he was ready to make the leap, Eddie was first on the list to call. Eddie's reply, when he was asked about bottoming for Blaze, was something along the lines of, "Oh, hell yes." Can you blame him?
There was some nervous tension as things got going, but it didn't last long. Blaze's cock was rock hard as soon as Eddie peeled off Blaze's pants, dropped to his knees and started sucking on him.
Blaze bent Eddie over, grabbed the lube and primed Eddie's hole with his fingers before slipping his dick inside. Eddie moaned as he felt Blaze pounding his ass. The chemistry was off and running, and things were just getting started!
It was Eddie's turn to take control, so Blaze sat back on the couch and let Eddie ride his cock. Blaze grabbed Eddie's hips and guided him up and down his shaft. Eddie was in heaven from the looks of it.
Eddie said that he'd have a bigger cumshot with Blaze inside him, and he wasn't kidding. As Blaze fucked away, Eddie worked himself up to one hell of finish that covered his abs while Blaze watched at the mess he'd caused.
And if that wasn't enough to drench him, Blaze pulled out and squirted his biggest load yet, shooting all over the couch and soaking Eddie's stomach.
Tags: Big Cumshot, Hairy, Muscular, Stocky/Husky, Anal