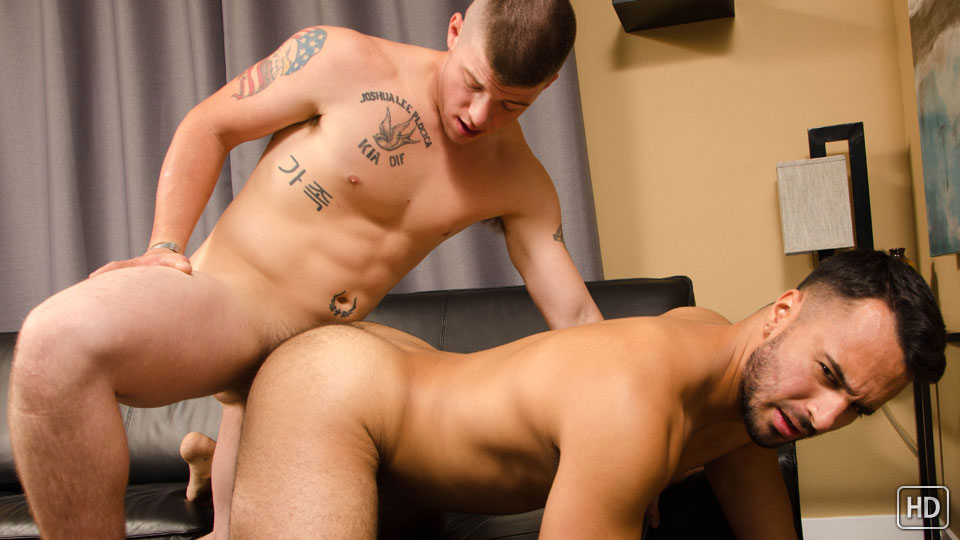 Watch the full scene:
Join Now!
Landon is back! And breaking some boundaries he'd never crossed before. When he got in touch to say that he was ready to top a guy, I knew just who to call.
Eddie had said he was ready to get fucked on camera, too. Both of the guys had said they liked rough sex, so who better for the job to initiate Landon?
The chemistry between them was off and running when they first met. The first-time energy of it all was evident as they peeled each others' clothes off and got down to business.
Eddie got Landon's cock primed with some sucking. To my surprise, Landon returned the favor by reaching around to stroke Eddie while getting blown.
Once they were both hard and Landon slipped his dick into Eddie's ass, it was non-stop. It was like the shoot was on auto-pilot watching them go at it. Landon seemed to be getting off on the idea of dominating another dude, but at the same time, while they were fucking, Landon kept reaching over to make sure Eddie's cock wasn't being neglected. Check out the intense look on his face while he's jacking Eddie off!
With Eddie on his back, Landon pounded his hole, making him blow all over his stomach and chest. Right after, Landon pulled out, stroking his cock hard until he shot his wad right on top of Eddie's.
Tags: Anal