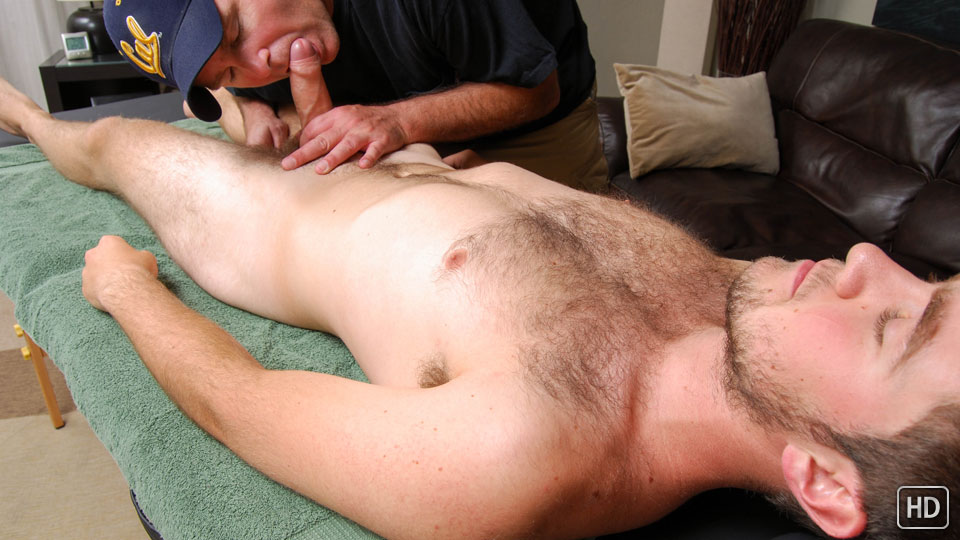 Watch the full scene:
Join Now!
A few months went by before Logan got back in touch about doing another shoot. He was so turned on by being in front of the camera during his solo that I was surprised he didn't call the next day!
After he showed up and we got things going, it seemed that his timing for getting in touch for another shoot was (at least in part) because he was horny and ready for some more action. When I first started rubbing down his back I asked him if there were any muscles that were particularly sore.
"All over," he said. "I got one that I'm thinking of, though."
No doubt. When I reached between his legs and pulled his cock from under him, the precum was already leaking, leaving little wet spots on the towel.
When he rolled over onto his back and was rock hard, I knew from his last shoot that I was going to have to be a little careful not push him over the edge too fast. Rubbing the glistening precum around the head of his dick did exactly that, though. We stopped for a second, but it was too late and Logan shot his load.
But that was just round one, apparently. Without even taking a break (except re-positioning the cameras), Logan told me he was ready to go again.
He had gone soft after the first cumshot so I gave his cock a little jumpstart by sucking on it. That got a better reaction than I thought it would. Logan gasped and his body tightened up; his back arching against the table. I guess I'd found the sweet spot because (time it yourself) 4 minutes after his first nut, Logan blew a second one!