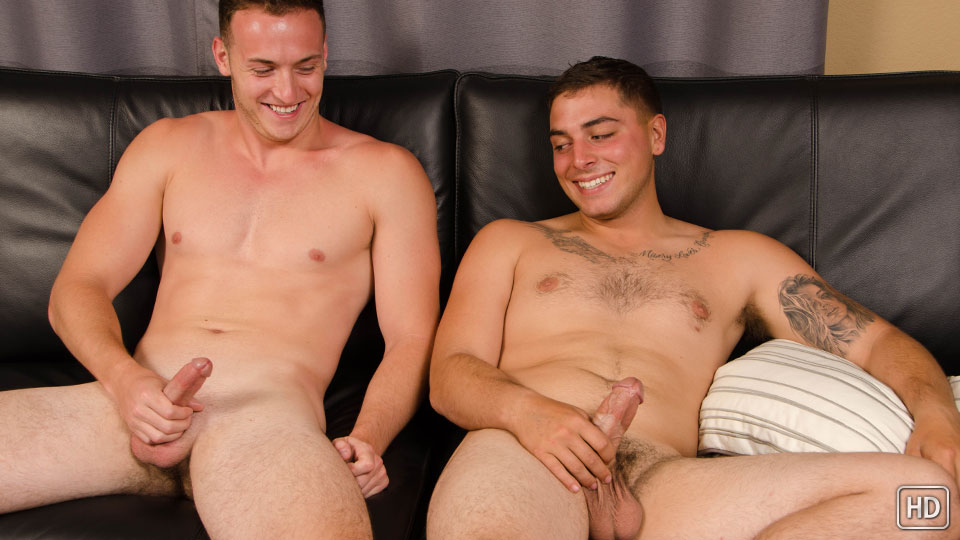 Watch the full scene:
Join Now!
During his solo, Peter mentioned that his buddy, Landis, might be interested in doing a shoot, too. He also, somewhat evasively, admitted that they'd masturbated together once before (even though Peter didn't want Landis to know that he'd told me about it). It seemed like a good situation to just get these two buddies to do a jerk off video together.
If anyone has ever wondered why the guys show up on the site in a solo first, this video might help explain why. There's usually at least some nervousness getting naked on camera for the first time. Having anyone else around (like, say, your best friend) just multiplies the nerves. And things can go a little haywire.
That explained, Landis was clearly nervous once the cameras started rolling. Once they both took off their clothes and started stroking, Peter (having done a solo once before) was rock hard and ready to go. Landis, stressed and struggling to get his dick hard, ended up over-doing it and cumming only 3 minutes after the cameras were recording!
With a little break Landis was able to get himself hard and try for round two. And, in the mean time, Peter was just building up a bigger nut after having edged and stopped a couple times.
The guys managed to get through some of the typical fun/funny parts of the buddy shoots once the cameras were fired up again-- showing off their asses and comparing dick sizes.
"He's got some vascularity going on," Landis joked about Peter's cock.
But after a few minutes, Landis ended up blowing a second load without any notice. Luckily, I was there to catch it.
Call me wicked, but as "punishment" for cumming too soon (twice), I made Landis watch while Peter finished up. And, wow, did he ever go out with gusto. Peter shot all the way over his shoulder and onto the couch behind him!
Tags: Duo j/o, Big Cumshot, Stocky/Husky