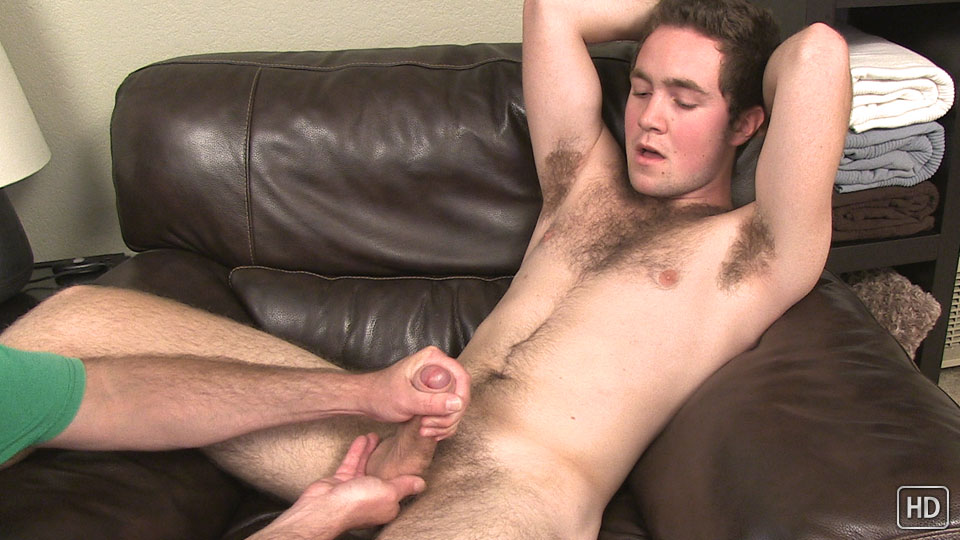 Watch the full scene:
Join Now!
Logan came over for this shoot a couple years ago. At the time, he was 19 y/o and a student at one of the local universities. And, to be honest, I'm not sure why this video took so long to get on the site. Partly because I thought editing it was going to be a challenge, but it's actually a hot little scene.
Logan said he'd thought about being in porn for a while, but it took him a while to work up the nerve. He described himself as a very sexual person and just an overall horny guy.
"I mean, I call myself straight," he explained, "but the sight of a cock definitely gets me turned on."
And he was definitely turned on being in front of the camera. From the minute he pulled his dick out for the photos, he was getting hard and pre-cumming. Even during the video shoot we had to stop a bunch of times because he was getting too close to cumming. (The reason why I thought editing it was gonna be difficult.)
For a young guy, Logan is pretty hairy. Something he heard a lot from people. And for a relatively little guy (5' 9" and 150lbs), he had a pretty big, uncut dick. Something he'd heard a few times, but never got around to measuring it.
That, of course, was my cue to pull out the ol' measuring tape, and the point when things got interesting fast. Very fast. Have your lube ready, 'cos I barely wrapped the measuring tape around his cock (7" by 6" btw) when Logan took a quick, deep breath telling me to "be careful with it," and blew his load right in my hand in about 5 seconds flat.
Tags: Helping Hand, Uncut, Hairy, Auditions