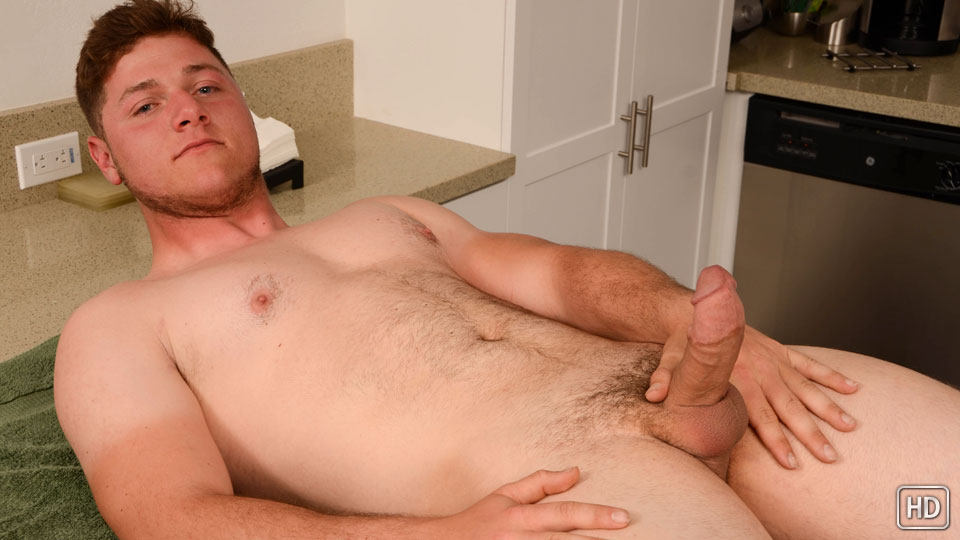 Watch the full scene:
Join Now!
A friend of mine and I spotted 22 y/o Clay when I was over at his place one day recently. We glanced at each other knowing exactly what the other was thinking: Someone has to give that guy a card. Well, luckily, Clay just happened to be looking for ways to make some extra money and two days later he showed up ready for his first porn shoot.
"I was a little nervous at first," he admitted with a coy grin, "but I'm feeling pretty good now. It's just different."
If his farmer's tan didn't already give it away, Clay's regular job is working outdoors; manual labor type of stuff. So he was definitely fired up by the prospect of getting paid just to take his clothes off and rub one out.
He might have been more excited about it than even he realized. As soon as he dropped his shorts, Clay's cock was already standing at half mast and, seconds later, fully erect. I love the closet exhibitionists I meet in this job!
Clay's jack off schedule varies quite a bit, from 2-3 times a day, to 1-2 times a week. He "kind of" saved up for the shoot, but it also just happened to be one of his slow weeks so he had a 4-day load ready to let out.
If Clay was a little reserved starting out, he had seemingly warmed up to the cameras by the end. He jumped up on the countertop and closed his eyes getting ready for his grand finale, rubbing one hand up and down his furry stomach. Suddenly, his heavy breathing signaled that he was close, as thick white cum flowed down his cock and puddled onto his pubes.
Tags: Hairy