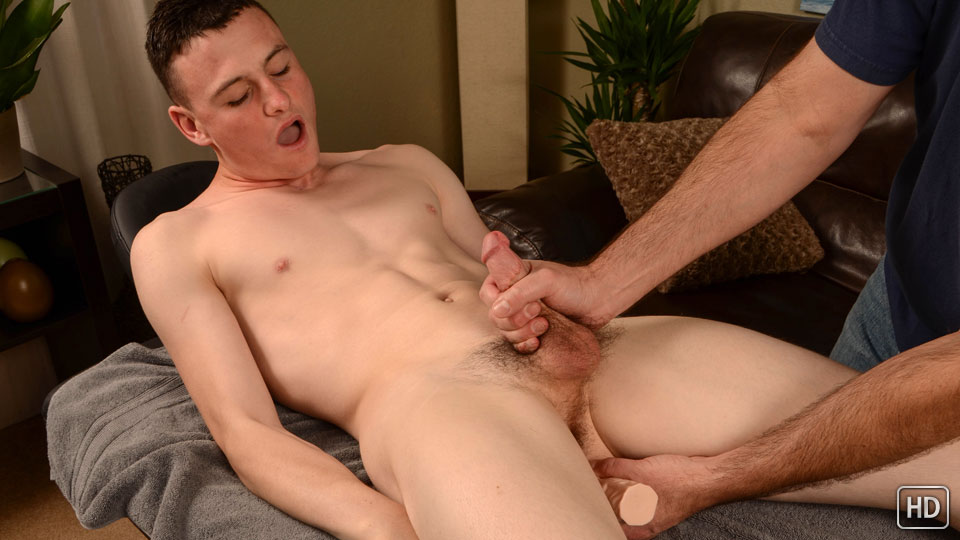 Watch the full scene:
Join Now!
Tory was so excited after doing his first porn shoot, that he was the one who was asking me, "What else can I do?" Normally, I'm the one who's pushing the boundaries, but Tory sounded like he was gung-ho for just about anything I was ready to throw at him.
Massage video? "Hell, yeah," was Tory's response. But I had a few ideas of my own, just to see how far things would go.
Okay, so Tory has been a little curious about hooking up with guys. What I didn't realize was just how curious he was. He'd actually gotten a happy-ending massage before.
"Once from a girl," he explained. "And once from a guy."
When he lay down on the massage table I went through the normal motions from his back, to his feet, but always aiming my hands and fingers toward his ass. Tory didn't even flinch when I spread his cheeks to slide a finger up his hole. I pulled out a butt plug which only made his dick get harder, so I pulled out the big guns -- a thick 8-inch dildo.
It was like the magic button on steroids. Tory moaned with pure ecstasy as it plunged into his hole.
When he flipped over, Tory's dick started going flaccid so I knew what was going to push him over the edge. A massive dildo up his ass was just what he wanted and his whole body tensed up with it pushed deep inside, cum shooting all over the place.