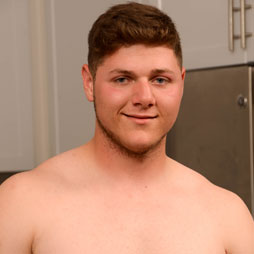 Age: 22
Height: 5' 8"
Weight: 185
Shoe: 9 1/2
Cock: 7" x 5 1/2"
Orientation: Straight
I have hopes to see Clay again. Not sure if it'll happen or not, though. At first, he shot down any mention of guy-guy scenes. But by the end of his solo he was talking about wanting to come back for more work, and even had a few friends he was going to try and recruit! So we'll have to see how this story develops.
He hates having body hair, and, trust me, I know how much you guys like it (or how much you hate the "trimmed" or shaved guys, especially when it's obvious they are hairy!)
Money talks, as they say. So, hopefully, if the cash keeps coming we'll keep Clay nice n' furry... AND get him back for some more intimate moments.
Tags: Hairy
Videos
Photos