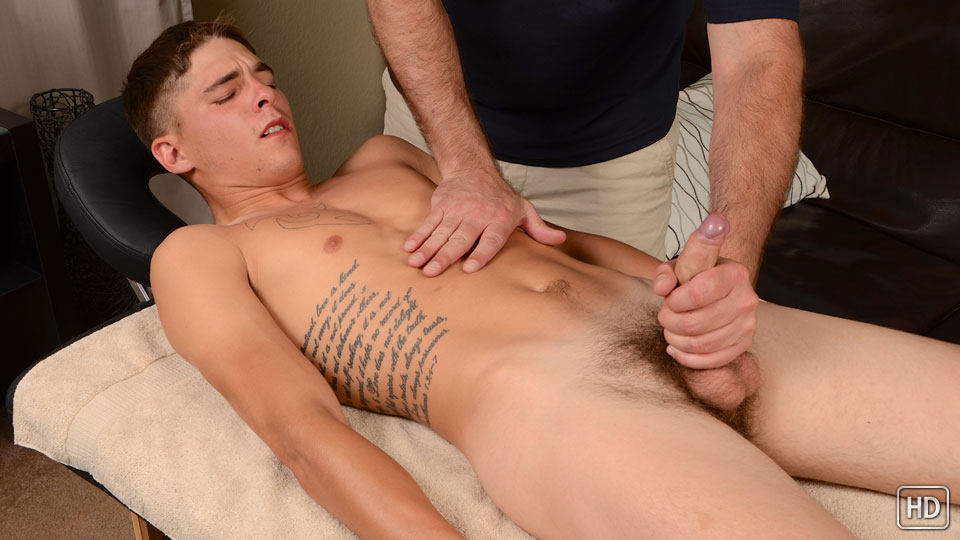 Watch the full scene:
Join Now!
When it comes to str8 military buddies, it seems that there's usually a "brave" one who is first to push his boundaries and try one of the guy-guy videos before the other buddy takes the plunge. With Alec, it was the other way around. When his best bud, Nevin, was on the fence about doing a happy ending massage video a while ago, it was Alec who goaded him into it.
Well, now it's Alec's turn. And he came prepared with a 2-day load stored up (much to his girlfriend's chagrin).
This wasn't Alec's first happy-ending massage. But it was the first time not paying for it, and the first time getting one from a guy.
Judging by the head of his cock swelling up and poking out from his foreskin, I'm guessing the ass play was something Alec liked. That was before I even got to his front side!
After rubbing down his torso and teasing his dick some more, I figured it was time to give him some much-needed release. His body clenched up so hard when he came, I thought he might fall off the massage table. And the cum that erupted from Alec's cock was some of the thickest I'd ever seen.