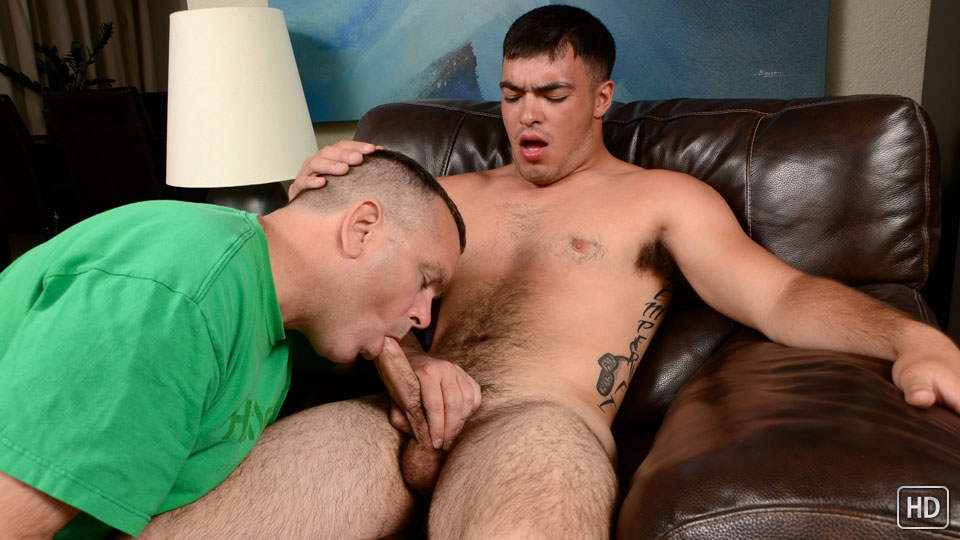 Watch the full scene:
Join Now!
Hairy, horny, and rock-fucking-hard. Three ways you just have to agree are the best way to have a Marine for his first bj from a guy.
Nevin was nervous, too. Or so he said.
"For real this time." he said as the cameras were warming up, dismissing the nerves he had before his last shoots.
Hard dicks don't lie, though. Nerves or not, Nevin was packing one stiff cock behind his denim.
If there was ever some redneck Marine ass that needed to get munched, it was Nevin's. I'll admit that I've waited WAY too long to get my tongue between his furry bubble butt cheeks. And if the look on Nevin's face was any indication, he'd probably been wondering what he'd been waiting for this whole time. It was a chair-gripping, body-shivering, eyes-rolling-in-the-back-of-the-head experience. Nevin didn't mind it either. (wink)
Nevin was ready to bust after a few minutes of face fucking and as much as I'd hoped for an open-mouth cumshot, it didn't quite work out that way. Nevin shot 3 feet, clear over my shoulder!