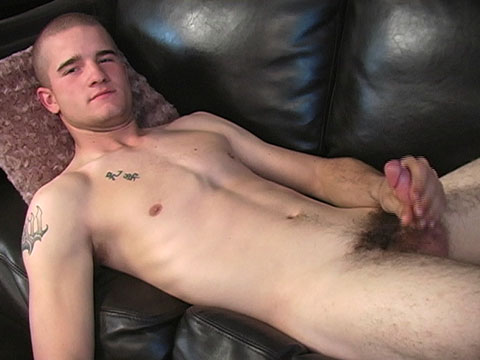 Watch the full scene:
Join Now!
Nat is a straight Marine from a tiny town in Texas. He's 19y/o and only lost his virginity a year ago at 18. He's making up for lost time since then and, even though he's "single right now," told me he had just been juggling 3 different girlfriends. Them in addition to his high school girlfriend back home!
Nat and I had been talking for a while before he finally decided to come over for a shoot. I thought maybe he was going to be nervous, but he turned out to be a real show-off. His dick was hard in a matter of seconds and even stayed hard after he busted.
"Yeah, it'll stay like that all day," he joked with me afterwards, and made me think we might have a Helping Hand candidate here.
There's something really sexy about Nat. He's got a tight little bod, and a furry ass that he was more than happy bend over and show off. It was definitely nice to see a full patch of pubes, too, which is rare these days. Nat's also one of those guys whose whole body tenses up when he cums. It's a hot show.