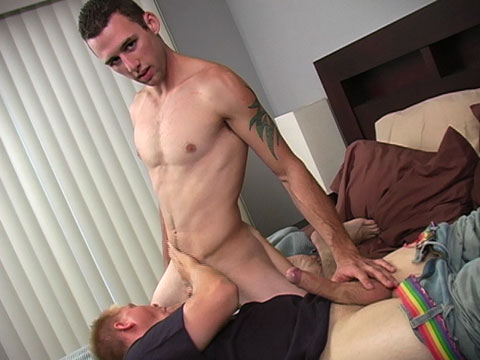 Watch the full scene:
Join Now!
Daniel's back with his big brown eyes and big ol' cock. He said after his last shoot that he might be up for getting his dick sucked by a guy, but thought it'd be easier if it was with someone he knew.
Michael C. fit that desciption to a tee. They've been friends for a while. Plus, Michael said he's always wanted to "get down on Daniel's cock," so this seemed like the perfect opportunity.
Michael got right down to business and had a big bulge in his pants, clearly turned on by sucking off his buddy. What happened next was unexpected. Daniel saw the mound and decided to take things a little further. He unzipped Michael's pants, pulled out his cock and started stroking him off. I didn't see that coming, but just smiled and kept the cameras rolling!
While Daniel was face-fucking Michael, he kept jerking Michael off who ended up busting a huge load all over his shirt. Then Daniel leaned back and Michael returned the favor, leaving his hand covered in spooge.