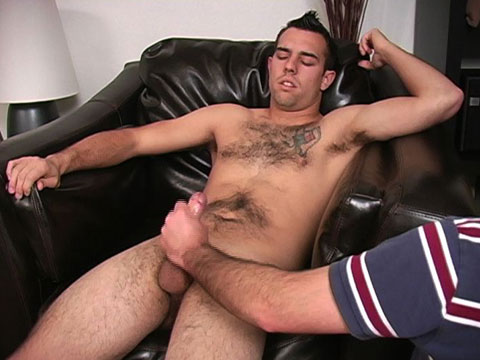 Watch the full scene:
Join Now!
When I asked James about doing a Helping Hand video, he just smiled and gave a thumbs up. Turned out that he had actually gotten his dick sucked by a former Navy buddy after a long night of drinking. This might not be his first time having a guy get him off... but it is his first time sober!
James likes sticking a finger up his ass when he's jerking off, so I thought I'd see if he'd like having someone else finger fuck him while getting his dick stroked. The answer is most definitely YES! After shoving a thumb and finger up there his cock was so rock solid that we had to slow down or he was gonna blow too soon.
"I thought you wanted me to last. You can keep doing that, but whenever you want me to go..."
And when "go" time came, James blew a huge load all over his chest and stomach. Judging from the moaning, he must have liked it. Maybe we'll get him back for a sober blow-job sometime, too.
Tags: Helping Hand, Hairy