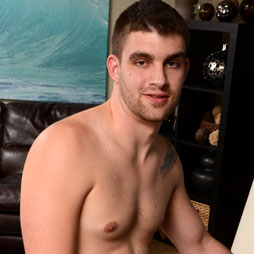 Age: 24
Height: 6' 1"
Weight: 200
Shoe: 12 1/2
Cock: 7" x 5 1/2"
Orientation: Straight
When we met, Lee kept reminding me of someone. But I couldn't put my finger on who that "someone" was. Maybe it was a guy I've seen on another porn site. Maybe it was someone from a movie or TV show. Maybe he was someone I've dreamed of getting front of my camera for years.
I know that the latter is true, for sure. Lee is a hunk of burnin' love, in my book. All the swagger that's been tempered with the coyness of the guy next door.
And, as I found out, his coy demeanor is just a big front. He's dirty in ALL the right ways.
I'm not sure we'll get to see him to do anything more than just solo work (he was dead set against doing anything with another guy), but I've got my hopes up!
Videos
Photos