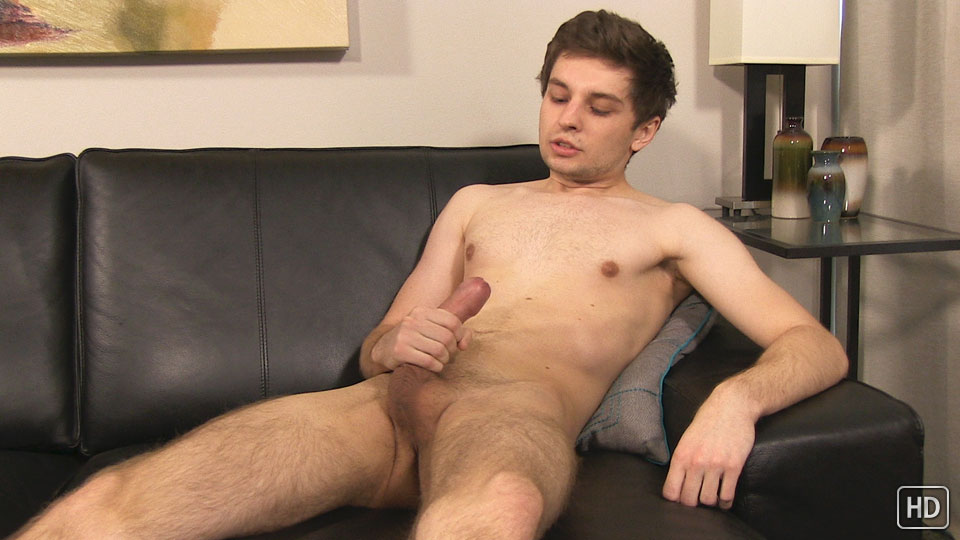 Watch the full scene:
Join Now!
Andrei is a So Cal transplant (by way of New York, Houston and Phoenix) from a city just outside of St. Petersburg, Russia. He'd been thinking about getting into the porn biz for a while and figured that since he was right in the hotbed of the industry, he started Googling around for some gigs.
Like so many applications that come my way, the pictures he included were... well, awful. A virtual jigsaw puzzle of body parts. So we scheduled a time for him to come by the studio and get some decent pics.
Andrei was fired up about getting started ASAP. When he peeled off his clothes for a couple test pics, he was already getting hard. And you probably know my rule by now: nobody leaves with blue balls.
I set up the cameras and let him rub one out. All the lights are certainly a new experience that most guys aren't used to, but he eventually warmed up to the cameras.
Andrei had said that a couple girls suggested he do porn because he's got a thick cock. Well, clearly, that was going to have to be verified with the help of the ol' measuring tape (wink). It was pretty girthy, and that's when I found out that his foreskin is so tight that he's unable to pull it back!
Given the thumbs-up, Andrei ramped up jacking his rod and, breathlessly, coated himself with cum.