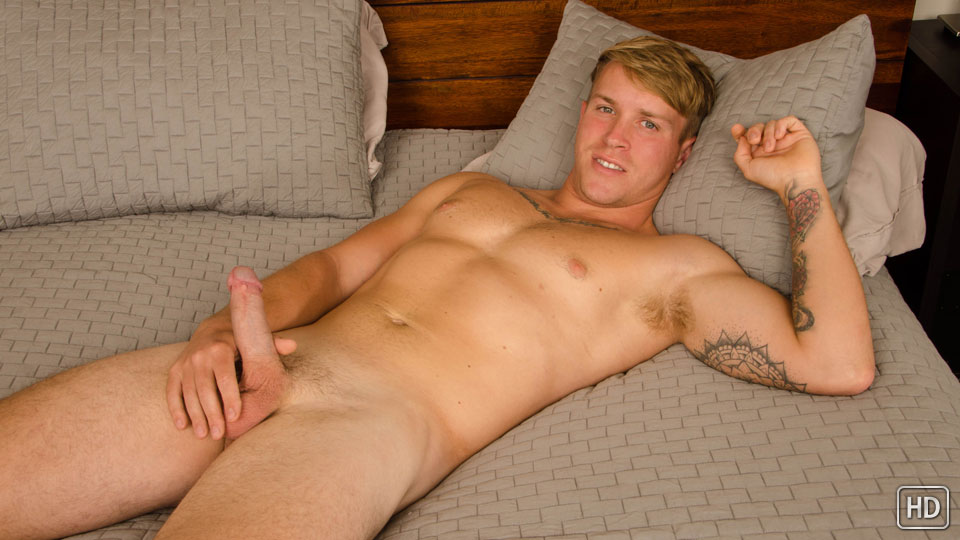 Watch the full scene:
Join Now!
Tobin had a nervous edge when he showed up at the studio. Even though he'd been thinking about doing porn for a while, I assumed that the reality of it actually happening might have started to sink in as he walked through the door.
After a few minutes of chit-chat to break the ice, though, it came out that Tobin is married and was a little worried that his wife would find out. He'd told his best friend about shedding his clothes for the world to see, so it wasn't a total secret. I asked him what his other friends would say if they found out.
"They'd probably be surprised," he said, adding, "And they'd kinda be like, 'Yeah, that's awesome!' at the same time."
If Tobin came across a bit stiff during the interview part of the video, he seemed more than ready to let it all hang out after his clothes came off. Even though he's married, he somehow pulled off saving up for about a week-and-a-half. And it showed. Once he had a fistful of lube, his cock was rock solid and he put on a hell of a show. When he bent over and started fucking his hand, I nearly fell over at the sight of his meaty ass.
After he got the go-ahead to shoot, Tobin was ready in almost no time. The climax seemed to come quicker than even he expected, quietly whispering that he thought he was getting close, and then moaning loudly as his thick load splattered across his abs.