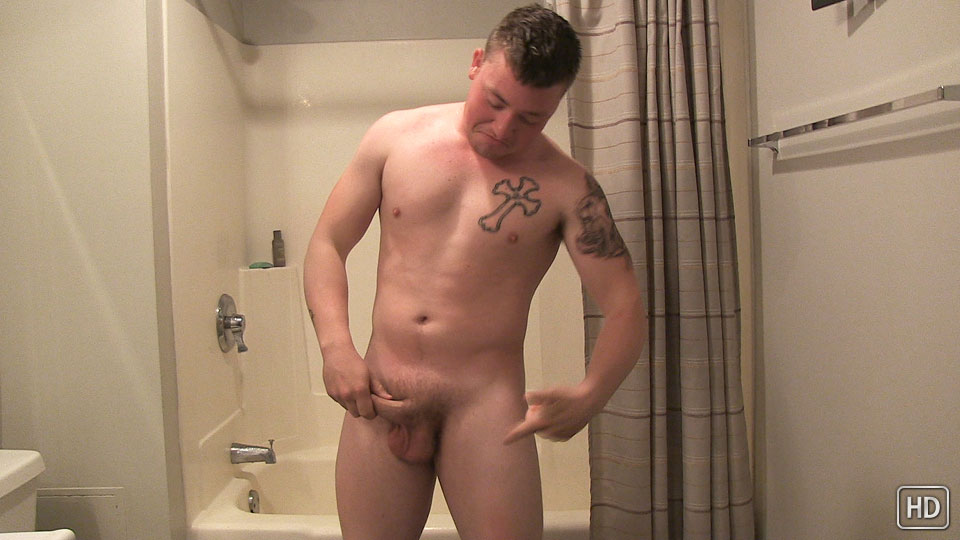 Watch the full scene:
Join Now!
I found this behind-the-scenes clip while putting together an upcoming DVD. Somehow it slipped through the cracks. Alas... better released late than never.
Wayne headed to the shower off the massage oil after his happy-ending shoot. Not being one to pass up the chance to get some off-the-cuff chat with the guys, I trailed after him with camera in hand.
One of things I like most about Wayne was his bubble butt. Turns out that he gets comments from girls on it all the time, too.
"Yeah, it's from bull riding and all that other shit," he said. "They notice that and my eyes. And my dick after we have sex," he added with a laugh.
He's got a thick one. Even after busting a nut a few minutes earlier, he looked like he was ready to go for round two right there in the shower.
We also get into what his friends think about him doing porn, and which of them were thinking about taking the plunge. What he thought about getting his first handjob from a guy, and how the military, oddly enough, helped prepare him for it. And the story leading up to his buddy exclaiming, "Holy fuck, man. I'm glad to be your friend. Those are balls a bull would be proud to have."
Tags: Uncut, Behind-the-Scenes