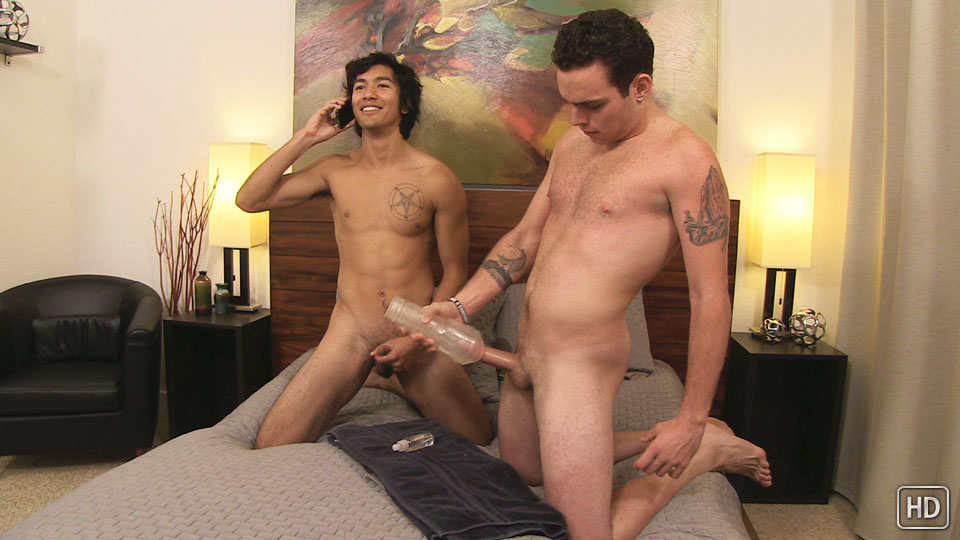 Watch the full scene:
Join Now!
I'm going to start this out by saying that this was probably one of the most unusual shoots I've ever filmed. It's been sitting on the shelf while I wondered if/how I could ever do something with it. Not that it isn't hot (in its own way), but... well, take a look and you'll probably see where I'm coming from.
Chris and Cole were both introduced to me through another guy who came over to meet and see about getting a shoot set up. As we were talking he said he had a couple buddies waiting in the car outside who might be interested, too.
Enter Chris and Cole. Both were fired up and wanted to get naked ASAP. So, I set the cameras up, left the room, and waited to see what would happen.
Chris (the guy with longer hair) was all over the place, trying to find just the right porn to watch on his phone and showing Cole the "hot bitches" he'd found. Meanwhile, Cole was dead set on keeping things on track; he even tried his best to coordinate the cumshots so they'd bust at the same time.
After they both nutted (and the cameras were off), Cole said he was ready to go again. "Well, get back in there!" I told him.
Both the guys ended up back on the bed and, while Cole was going for round two, Chris' phone rang with the guy from earlier calling to see what was going on: "Yeah, man, Cole and I are actually beating our dicks right now."
[click]
Long story short, Cole ended up hammering out a 2nd cumshot, then without missing a beat, went for round three, all within about 15 minutes of each other.