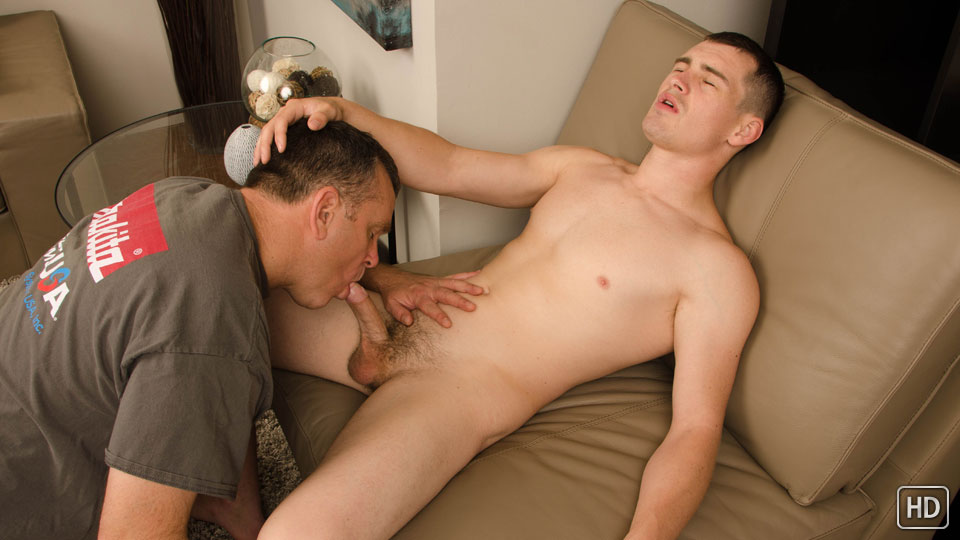 Watch the full scene:
Join Now!
Oren had always heard that guys give better head than most girls. After getting a sample of some dick sucking during his happy-ending massage last time, he got back in touch about doing the bj scene I'd mentioned to him.
He had said that money was the driving factor for coming back, but as soon as the cameras were turned on Oren's cock was bulging through his shorts, signaling that something else besides cash might be the motivator. Hard dicks, as they say, don't lie.
The curve of Oren's boner was just about perfect for sliding right down my throat. He didn't say as much, but based on his facial expression every time I took it down to the base, it seemed like Oren would agree. His ball sack was so tight that it looked like he was about to bust at any second.
Oren had never been rimmed and, at first, wasn't so sure it was something he was willing to try. Between being super horny and just being the "try-anything-once" type of guy, it didn't take much convincing. I'm sure he was glad he agreed to try it. Oren moaned and squirmed in pleasure as my tongue worked its way between his ass cheeks.
I won't lie -- it took some work to get Oren up to the edge. But every minute got more and more intense as his body clenched up and his eyes darted back-and-forth from the porn playing in the background and down to his cock. As his breathing became more of a pant, he was barely able to speak.
"Right there. Oh, yeah, right there," he gasped. "Don't stop. Don't stop." Dabs of cum splattered onto Oren's leg as he moaned loudly, his whole body twitching.
Tags: Oral