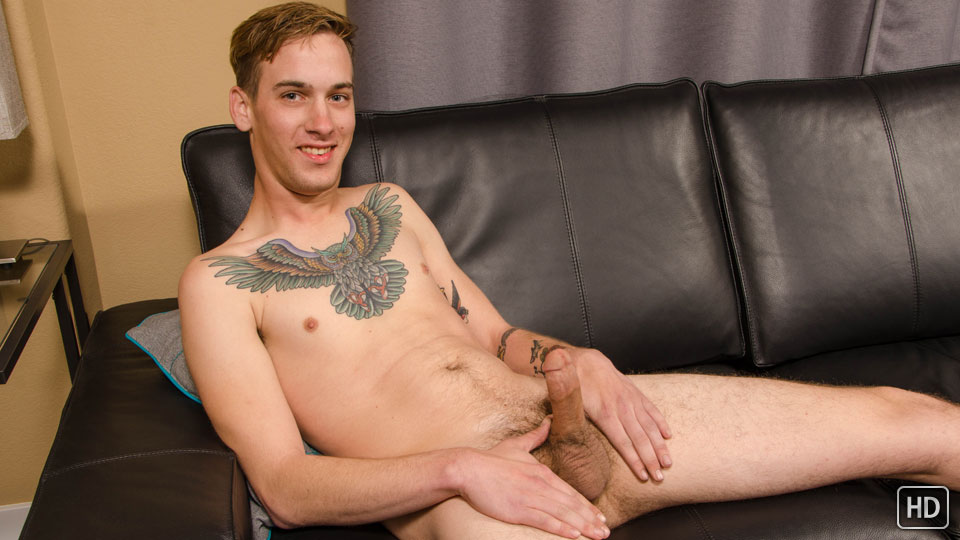 Watch the full scene:
Join Now!
A while back, Kenny was doing a little recruiting for the site. A bunch of his buddies found out he was doing porn and a good handful of them were lining up to do it, too. For one reason or another Powell was the only one of them who actually came through.
Powell is 23 y/o and a tall (6' 3") lean dude. When we first met he was really excited about getting started, but had zero pubes; shaved to the skin. So we waited about a month before setting up his shoot.
When we finally got things scheduled, Powell said he'd been wanting to get naked on camera for a long time. He's constantly hanging out at home in the nude and said that he's "that guy at the party" who is always stripping off his clothes.
He laughed as we were talking about it, "If I get intoxicated at all, I'm naked."
Powell was so excited about his first porn shoot that he saved up a 4-day load. From the amount of cum he squirted, I'd say it was worth the wait: Powell shot all the way up to his shoulder. He laughed again at the mess covering his chest, "It's everywhere!"
Side note: an anonymous buddy of Powell's has been emailing every few months, asking when his shoot was going to go live. It wasn't clear if he was a secret admirer of Powell's, or he was one of the curious buddies thinking about doing a shoot, too. Alas, if you're reading this, anonymous buddy, hope you enjoy finally getting to see it.
Tags: Auditions, Big Cumshot