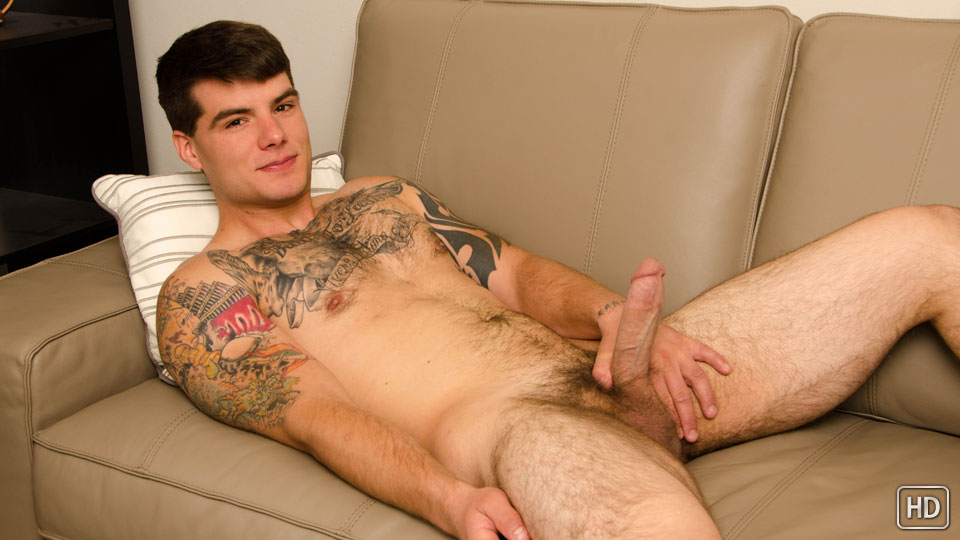 Watch the full scene:
Join Now!
Dustin was referred to me by either a fan of the site, or an anonymous model who's already appeared on the site. The story was a little vague, but whoever it was that was doing the recruiting thought that Dustin would probably look good naked. And I couldn't agree more; like Clark Kent's hot military son.
A former Marine, Dustin is 23 y/o and decided to drop trou' for some cash, much to his girlfriend's chagrin. At least at first. She warmed up to the idea since he first told her about the plan and actually ended up curious about things.
"I wasn't sure if it'd be okay," Dustin said when he showed up, "but she wanted to come along and watch."
I liked her already. And when Dustin said that she preferred him with all his body hair grown in, I felt like I had a new best friend.
Dustin was nervous about shedding his clothes on camera for the first time. Mostly, he said, because he was afraid his dick wasn't going to perform in front of a new audience. A fear that went flying out the window no sooner than it came up. As soon as Dustin unzipped his jeans, his cock was ready to roll and standing at attention.
Just to make sure he was going to make a good first impression, Dustin saved up for a full week before the shoot. And that included a session with his gf where he stopped before cumming. ("She knew why," he grimaced.)
And it worked. Not a high-flying cumshot, but what it lacked in distance it made up for in volume! The load kept coming, and coming, and coming until his stomach was covered in thick jizz.