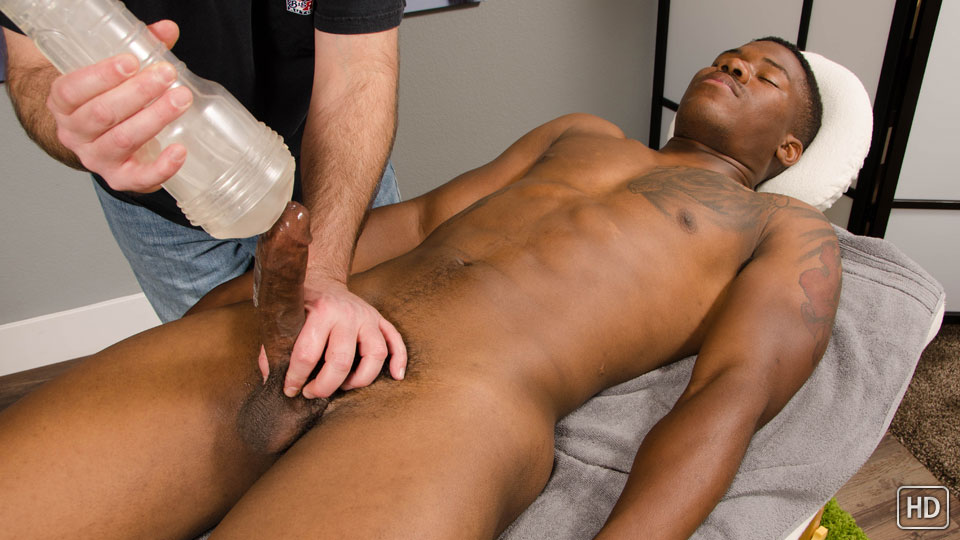 Watch the full scene:
Join Now!
To say that I was surprised when AJ got in touch about coming back for a massage would be an understatement. After his solo shoot, the idea was brought up and quickly turned down. But you can imagine how quickly I had the cameras ready to roll when he changed his mind. He'd never done anything with a guy before and to say he was nervous about might be another understatement!
AJ, for his part, made light of his earlier decision, explaining with a laugh, "I guess things have changed."
He'd gotten a happy ending once before. And not one he recalled with much enthusiasm; from a woman he wouldn't have chosen, but that his buddy had paid for. With that in mind, I set out to one-up his only other experience.
Who knows what's going through a str8 Marine's noggin when they close their eyes, lay back on the massage table and things get going? Whatever it was certainly did the trick for AJ: his massive cock was pulsating as soon as it was pulled between his legs. That ass of his was hard to ignore, and the attention he was getting down there might have been something to do with it.
AJ's cock has got to be one of the biggest I've ever wrapped my hands around. I was curious to see how much it filled up the Fleshlight. And it did, big time. We almost had to stop at one point because AJ was going to bust too soon with his cock filling up the toy.
And that's all it took to push him over the edge. After a few final strokes with the Fleshlight, AJ gave the word that he was going to cum and left a puddle of jizz on his stomach.
Tags: Fleshlight, Hung, Muscular, Massage