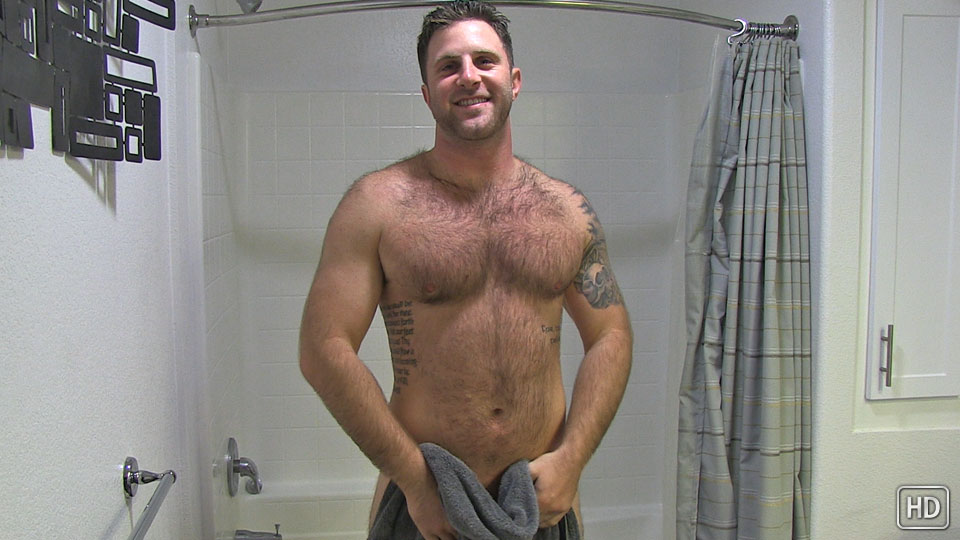 Watch the full scene:
Join Now!
Blaze headed off to the shower after his happy-ending scene. Of course, I was trailing along, camera in hand, to record it all.
Sometimes it still blows my mind that Blaze is only 21 y/o. I asked him about when he started getting so hairy. Turned out to be when he was just 12-13 and still in elementary school. The funny part wasn't that he got teased by the other guys, but (as Blaze explained it) how unfair it was that he had to shave his face when all the girls with mustaches somehow got away without it.
Having to grow out his body hair for his porn shoots here may have made a breakthrough in this cougar-hunter. You'll hear his thoughts on his "winter coat," along with reasons for doing porn, what he thought of his first gay BJ, military life and being on deployment, working out at the gym (or not). And we finally nailed down who his Hollywood film star doppelgänger is. Take a guess and see if you were right!
Things wrap up with a nice long piss and some naked flexing. Enjoy!
Tags: Hairy, Muscular, Stocky/Husky, Behind-the-Scenes