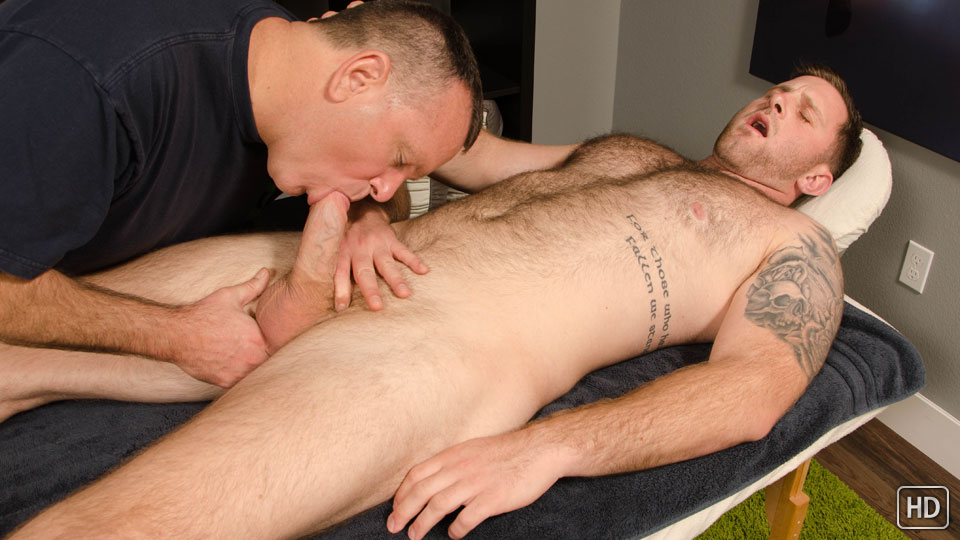 Watch the full scene:
Join Now!
Many of you have emailed or tweeted asking if Blaze was going to be coming back. I'm glad to say that the answer turned out to be YES! And he was hornier than ever when he showed up for the shoot.
Blaze is no stranger to happy-ending massages. He'd gotten a few while on overseas deployments. All from women, of course. He'd never even gotten a "regular" massage from a guy which, when I asked him if he had, made him laugh.
"Nope, first time. Popping both cherries!" he joked.
It was pretty obvious that there was some sexual tension going on, even before we started setting up for the shoot. I figured this might be a good chance to see how far Blaze was willing to let things go. By the time he lay on the massage table and my hands made their way between his beefy legs, Blaze's cock was already poking out. It got bigger within seconds when I spread his ass cheeks and rubbed his hole. The temptation was too much so I dove in and let my tongue do some of the work down there.
When Blaze rolled over onto his back, the boner he was sporting told me he was on board for the ride so far. I took my time, teasing his cock with some brushes with my hand. His dick was so hard it was pulsating on its own and I was a little afraid that he'd cum too quickly. After a few strokes, though, I wrapped my lips around the shaft and gave him a few quick sucks.
To my surprise, Blaze reached down and pushed my head all the way down on his cock, squirming in pleasure. He set the rhythm, guiding my mouth up and down his cock that lead to one super intense cumshot. His massive balls pulled up practically inside him and Blaze's whole body clenched up while cum exploded from his cock, shooting up his chest and off the side of the table!
Tags: Hairy, Muscular, Stocky/Husky, Massage