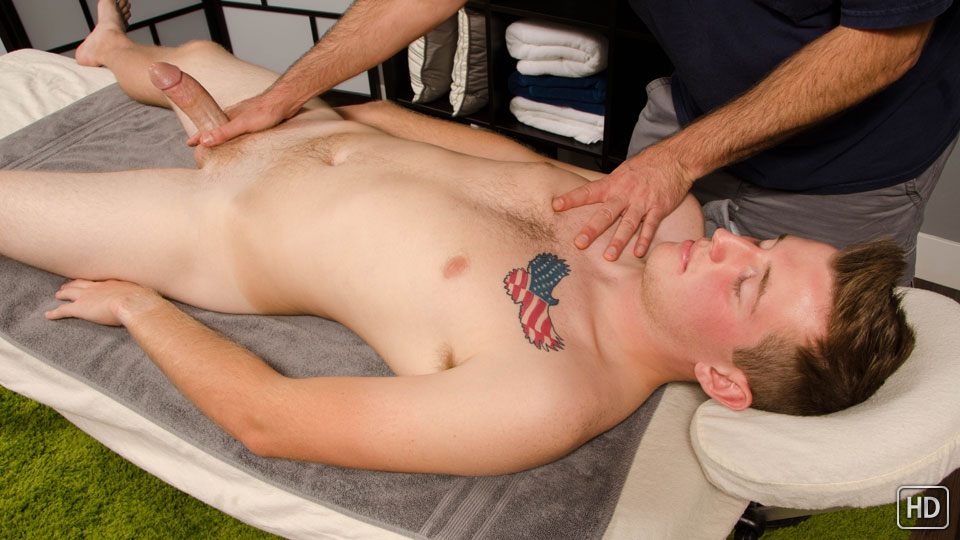 Watch the full scene:
Join Now!
Honestly, I didn't think we'd ever see Kenny again. As open-minded as he is, doing any guy-guy scenes was something he wasn't interested in when I brought it up after he did his solo shoot.
It took a few months, but it was a friend of Kenny's who talked him into taking the next step. They had been talking about buying some new toys and needed the money. "Just go do it!" Kenny's friend told him, and all of a sudden my phone blew up.
When Kenny came over last time, he hadn't told anyone about doing porn. Since then, he obviously told his one friend about it, along with his new girlfriend who thinks it's hot that he did porn. And then there's the group of friends he told back home. Short story is that Kenny has "come out" to a growing number of people. They've even started calling him "Ginger Twink" which someone labeled him on one of the porn blogs.
Kenny had never gotten a happy-ending massage before, let alone from a guy. He was nervous, for sure, but gave it enough thought to get past most of his nervousness. Even I was a little surprised at how quickly his thick cock rose to the occasion. A few rubs past it and it was visibly growing from between his legs as he was laying face down on the massage table.
Rolling over onto his back, it took only a couple tugs before he was rock hard. Whatever was going through his head was clearly working! It was a nice handful to play with, too. This scene probably ran a little longer than normal because of it. (wink)
When I picked up the pace stroking his cock, Kenny's body started tensing up as he got close to cumming, and he let out a few appreciative noises. Suddenly, his eyes squeezed shut and he moaned as his cock erupted. What Kenny lacks in distance, he makes up for in thickness-- big globs of white cum ran down my hand and pooled up on his pubes.
Tags: Redhead/Ginger, Blond, Massage, Big Cumshot