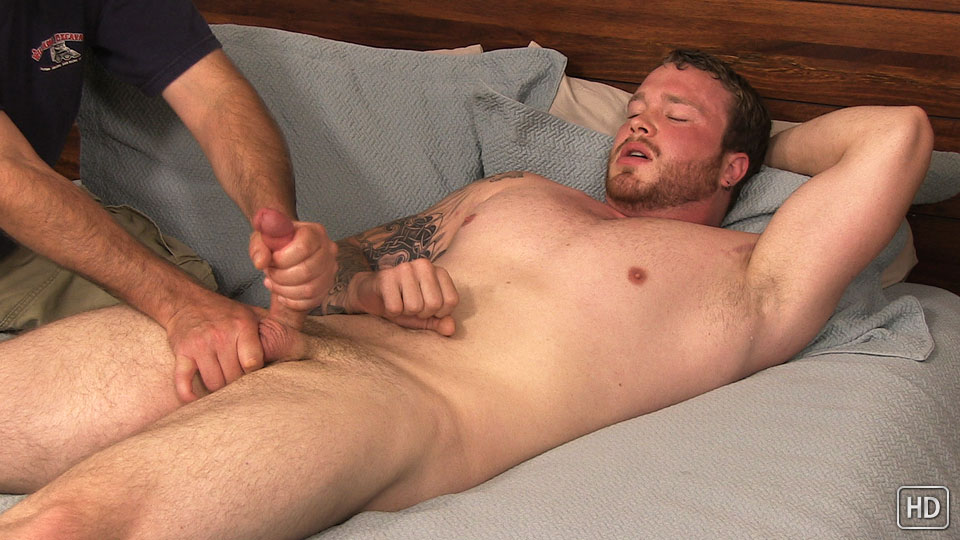 Watch the full scene:
Join Now!
Niall is a former Marine, 25 y/o, and has been checking things off his bucket list since recently getting a divorce from his wife. On his list was doing porn. But it took a few months from the time he first got in touch, up to now when he decided to take the leap.
One of his fears was whether he was going to be able to keep it up once the cameras were on him; a fairly typical thing the guys worry about. In Niall's case, he was concerned for nothing. And certainly didn't need to worry about having a big enough dick.
Niall seemed to be more excited about showing off his thick cock than maybe he realized he'd be. You'll catch him sheepishly grinning, almost embarrassed at how hard his dick had gotten.
About halfway through the shoot, he moved his hands away from his dick, letting it stand rigidly on its own. I made an offhand comment that it looked like a big handle that I wanted to grab.
"Go ahead," Niall offered, letting me reach in to stroke him.
Niall told me that he'd never actually measured his dick, so it seemed like a great time to pull out the ol' measuring tape. It was even bigger than he thought -- 8 1/2 inches long, and a thick 5 1/2 inches around.
Niall didn't seem to mind when I kept stroking his cock during the process. He even grabbed the lube which seemed like a green light to finish him off. After a minute of wrapping two hands around his shaft to get him primed, Niall nearly exploded, dumping a puddle of cum onto his leg.
Tags: Helping Hand, Hung, Redhead/Ginger, Muscular