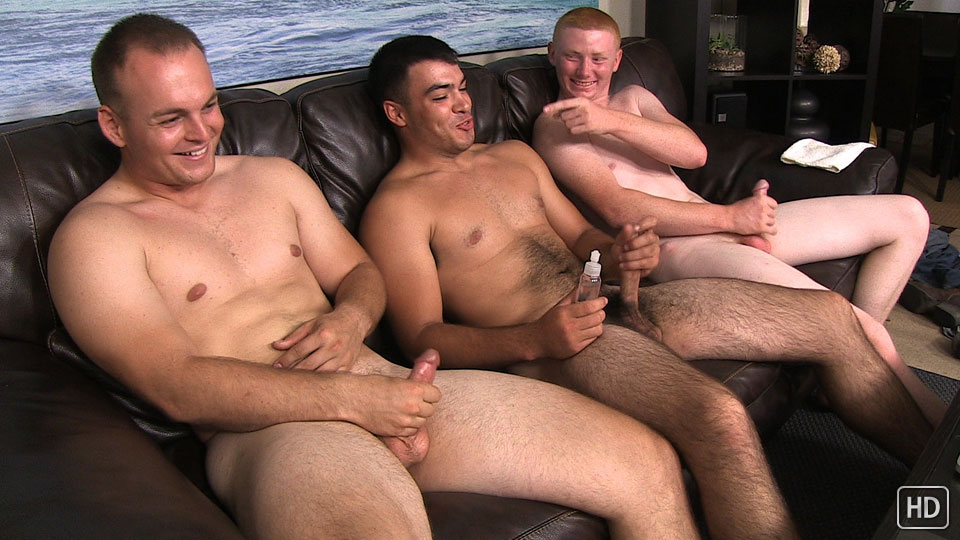 Watch the full scene:
Join Now!
You just can't plan this kind of thing. In fact, I'm not even sure how to describe the way this shoot happened.
Four Marines showed up at my front door when I was only expecting one. This was the day that Alec had come by for his BJ scene. His buddies Nevin, Cole, and Red had just come along for the ride.
At least that was the plan. Until Nevin got horny and wanted to watch some porn and bust a nut. Before long, he had talked Cole and Red into joining him. Not being one to miss a chance like this, I set up the cameras and let all three of them go to town.
If you ever wanted a real-life glimpse into what a buddy JO session would be like among str8 Marines, here ya' go! There was plenty of teasing and joking, from the one guy who was jerking off so hard that the whole couch was shaking, to a surprise from Alec who came out to see how things were going and take a quick cameo pic.
What's hottest about this video was what wasn't said, like the sly peeks at each others' cocks to see how they measured up to one another. And the sly attempts to cum without the other guys noticing.
Afterward, like clockwork, all three headed off to the shower and jumped in together where the shenanigans kept on going.
Tags: Duo j/o, Hairy, Redhead/Ginger, Muscular, Behind-the-Scenes