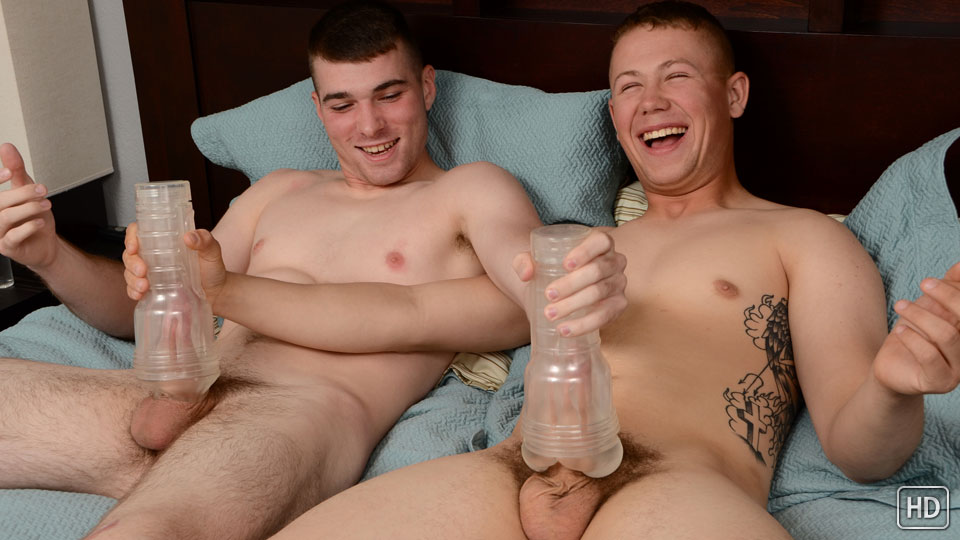 Watch the full scene:
Join Now!
I've been wondering where the bro-mance "competition" between Randy and Sean would end up going. It took a while to make it happen (you'll hear part of the story about why in the video), but these two Marine buddies finally ended up in front of the camera together. And even I was surprised at the outcome. That sneaky Randy had something up his sleeve for the ending… but I'm getting ahead of myself.
The guys showed up looking very nervous about the shoot. After reassuring them that they could relax and just have fun with it, they did just that: had fun, and lots of it. From teasing each other about dick sizes and cumshots, the connection between these two best friends (as well as the curiosity) was obvious.
Especially when I pulled out a couple Fleshlights. They loved them! I suggested that they help each other out and that's when the fun really started.
"There should be no reason we don't cuddle in the field now," Sean told Randy while they were jerking each other off. I think he was kidding. I think.
After some joking around, the intensity of the situation kind of hit 'em. And the looks on their faces was priceless as they watched each other slide the Fleshlights down each others' cocks.
Randy was the first to nut and, like I mentioned, had his own surprise in store. He pulled his cock out of the toy, gave it a last couple tugs, and blasted Sean with a stream of cum.
And if once wasn't enough, while Sean worked up to his cumshot, Randy got so turned on that he went for a second one!
Tags: Duo j/o, Fleshlight, Big Cumshot